Published On: 13 Jun 2023
Currumbin Wildlife Hospital's Dr Michael Pyne announced as Order of Australia Medal recipient!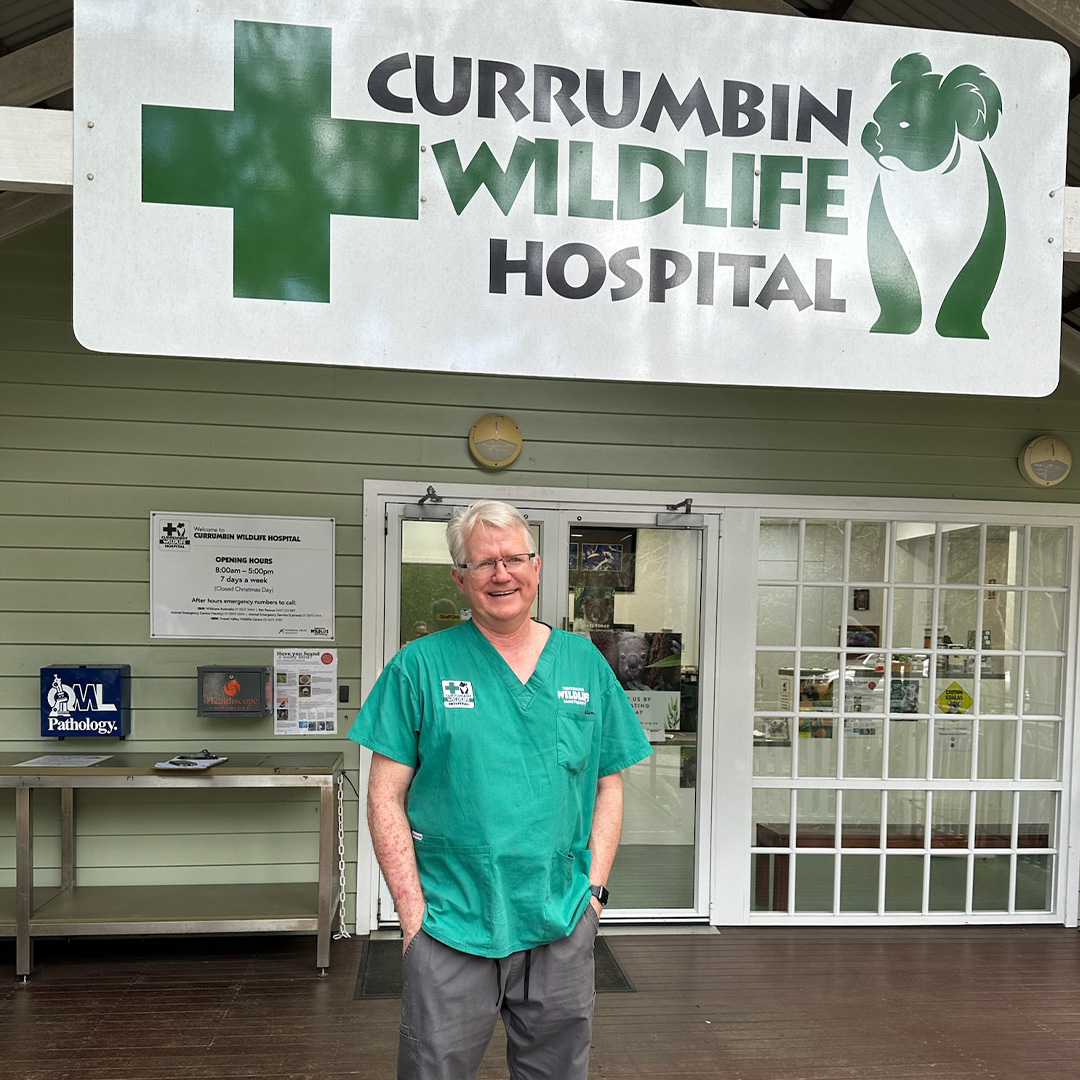 The team at National Trust of Australia (Queensland) are thrilled to announce, Currumbin Wildlife Hospital Head of Veterinary Sciences and Research Programs Dr Michael Pyne has been named as one of the recipients on the King's Birthday 2023 Honours List.
Dr Pyne was awarded an Order of Australia Medal (OAM) in the General Division for his dedication to veterinary science.
Dr Michael Pyne has been working at the Currumbin Wildlife Hospital since 2000, completing his Membership of the Australian and New Zealand College of Veterinary Surgeons in 2002. Under his leadership Currumbin Wildlife Hospital has grown into one of the busiest wildlife hospitals in the world, admitting over 14,000 native wildlife cases per year.
Working with organisations such as WWF-Australia and QUT, Dr Pyne has also been at the forefront of a world leading Koala Vaccine program, which has seen huge success in recent years, helping to save the lives of the iconic Australian species, which is listed as endangered in Queensland, New South Wales and the Australian Capital Territory.
"This is a huge honour and wouldn't have been possible without the amazing veterinary and research teams at Currumbin Wildlife Hospital. Saving our precious wildlife has never been so important and our commitment has never been so strong. I'm so grateful for this award and hope it really highlights the importance of the work we do." Currumbin Wildlife Hospital Head of Veterinary Sciences and Research Programs Dr Michael Pyne.
"On behalf of the National Trust of Australia (Qld) Board, I am truly delighted to hear the news that our Senior veterinarian and research manager, Dr Michael Pyne who has served the Currumbin Wildlife Hospital for 22 years has been duly recognised in the recent King's Birthday Honours for service to veterinary science. Dr Pyne epitomises everything to do with excellence, commitment, research leadership, innovative thinking and passion for wildlife. His dedication to his calling has been witnessed by all who interact with Dr Pyne. His vision, specifically to help Koalas through world-class research, is to be commended."
"We are very proud of Dr Pyne's achievements and we are confident knowing that his brilliance as a vet and leader in research will forge greater support for wildlife now and into the future. Congratulations Dr Pyne for your much deserved recognition." - National Trust Queensland's President Gina Palmer.
"I have worked with Michael for many years and have seen first-hand the amazing work he does to save Australia's unique wildlife. This honour is richly deserved". - Dr Bruce Cook OAM, former Deputy President of National Trust of Australia (QLD), former Chair of Currumbin Wildlife Hospital Foundation and current Volunteer at Currumbin Wildlife Sanctuary.