Published On: 29 Jun 2019
Endangered species in the spotlight

"Make every effort towards wildlife conservation and ensure our children have the opportunity to see wildlife."
- Dr Alex Griffiths - Founder of Currumbin Wildlife Sanctuary - 1973
As the founder of Currumbin Wildlife Sanctuary, it was Dr Griffiths' vision, supported by his lifelong work, to ensure through research and conservation; our native animals would be protected for future generations to enjoy.
While National Trust Currumbin Wildlife Sanctuary has been educating the community about native wildlife for over 70 years, sadly, Australia still has one of the worst mammal extinction rates in the world. Currently almost 30% of our surviving mammal species are threatened with extinction.
A combination of the loss of biodiversity and the subsequent crash of ecosystems is largely attributed to man. While humans have had the greatest negative impact, it will only be through continued education, research and recovery programs that these animals can truly hope for a chance at survival.
At Currumbin Wildlife Sanctuary, we have a proud history of collaborating with Australian universities to help spearhead and lead ethically approved research projects, complemented by the vital work of the Currumbin Wildlife Hospital, which admits over 11,000 wildlife patients annually.
Presently, we contribute to 16 Conservation projects, and while every animal is equally important, we wanted to highlight three species that are currently listed as endangered. By doing so, we hope to encourage the community to develop not just a better understanding of what we do in the background here, but also what we can all do as a community to help our endangered species, too.
Kroombit Tinker Frog
Currently listed as critically endangered.
Queensland has the unenviable status of being the state with the highest number of extinct or critically endangered frog species in Australia. Amongst these species are five of the six species of frogs of the genus Taudactylus – the day and tinker-frogs. This is a group of small myobatrachid frogs that live in association with mountain streams and are endemic to eastern Queensland. The three tinkerfrogs are small, highly cryptic and rarely seen, though they have a prominent and enchanting call that sounds like the 'tinking' sound made by tapping on a crystal glass.

The threats to the critically endangered Kroombit tinkerfrog include habitat degradation as well as chytrid fungus, which is thought to be implicated in the decline of many amphibian species around the world. Joining forces to collaborate on a recovery program for this species in 2009, Griffith University and National Trust Currumbin Wildlife Sanctuary initiated a captive breeding program for the closely related species, Eungella or Liem's tinkerfrog. The husbandry and breeding techniques gained from the success of that program are now being used with Kroombit tinkerfrog. The second phase of the captive breeding program for Kroombit tinkerfrog involves a collaboration between Currumbin Wildlife Sanctuary and the Department of Environment and Science. Kroombit tinkerfrogs have been collected from the wild are being maintained in the Currumbin Wildlife Sanctuary Frog Conservation and Research Facility with the hope of successful breeding. Ultimately we hope that this program will allow us to prevent the extinction of this unique and little known species.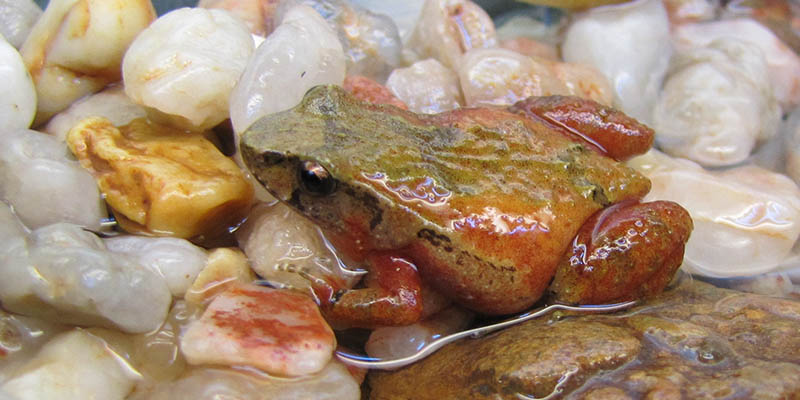 Glossy Black-Cockatoo
Currently listed as vulnerable.
The Glossy Black Cockatoo has an extremely limited diet of seeds, mainly sourced from She-Oak "feed trees". Being a fussy eater combined with a unique, longer breeding cycle means the odds of survival are stacked against the Glossy Black-Cockatoo. These birds produce just the one egg every two years, have a 90 day incubation period, and at least 12 months where the chick is totally dependent on parents. Sadly, the faster pace of coastal development is contributing to habitat loss, from clearing of these specific feed trees plus hallowed out trees, which are their preferred breeding sites.
Since 2005, Currumbin Wildlife Sanctuary has been working on a research program in consultation with government, community and business groups aimed at raising awareness and protecting existing birds. The team has also been planning a quality captive breeding program so the species can be strengthened in numbers and hopefully re-populated back into the wild. A plant map is also under development, aimed at identifying pioneer vegetation, individual feed trees and the location of potential breeding trees to ensure existing species can be identified, and also hopefully protected.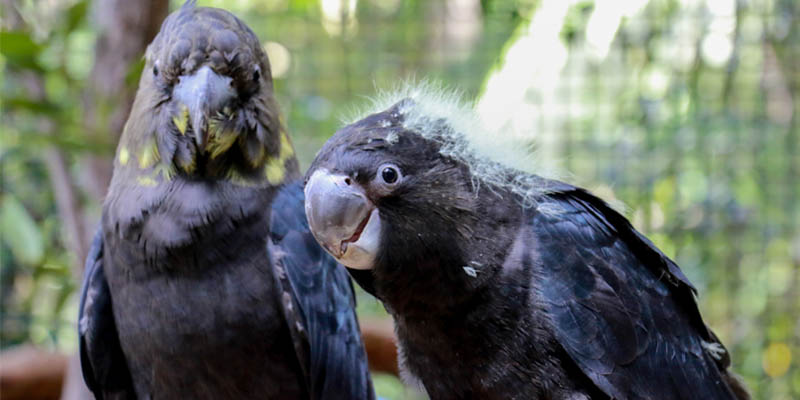 Koala
Our native Australian mascot and much-loved fluffy marsupial is presently listed as vulnerable.
Almost 500 sick koalas are admitted to the Currumbin Wildlife Hospital every year, with injuries ranging from habitat loss to vehicle strike and dog attack. The majority also tests positive to koala chlamydia and koala retrovirus – the two major threats to the wild koala population.
Through our work with Currumbin Wildlife Hospital and in collaboration with City of Gold Coast and leading universities, a Chlamydia vaccine has been developed that is showing promise in the fight against increasing mortality rates. Our aim is to treat and vaccinate all koalas presenting at the hospital. If they can be released back into the wild, this will contribute to a healthier koala population, which we hope in turn will mean an improved lifespan for the species in the future.

While positive steps are being taken to identify vulnerable and endangered species, the reliance on the community is more critical than ever.
"We all have the ability to make a change, to take responsibility for the choices we make and reduce our impact on wildlife and their habitat. If each of us made one small positive change we could make a big difference together."
- Tammy Hogan, Conservation Projects Officer
"In my time working as a wildlife veterinarian, it has been pleasing to observe the general community becoming more and more passionate and concerned about the plight of Australia's native wildlife. While Currumbin Wildlife Sanctuary and Hospital may be doing amazing work, we will only truly make a difference if the community gets behind supporting wildlife - only together can we ensure wildlife has a secure future.
- Dr Michael Pyne, Senior Veterinarian