Published On: 22 Oct 2021
Happy 90th Birthday to Volunteer John Walker!
We all want to know the secret to staying young. If you ask John Walker of Palm Beach, he'll tell you that volunteering at Currumbin Wildlife Sanctuary might just be the answer.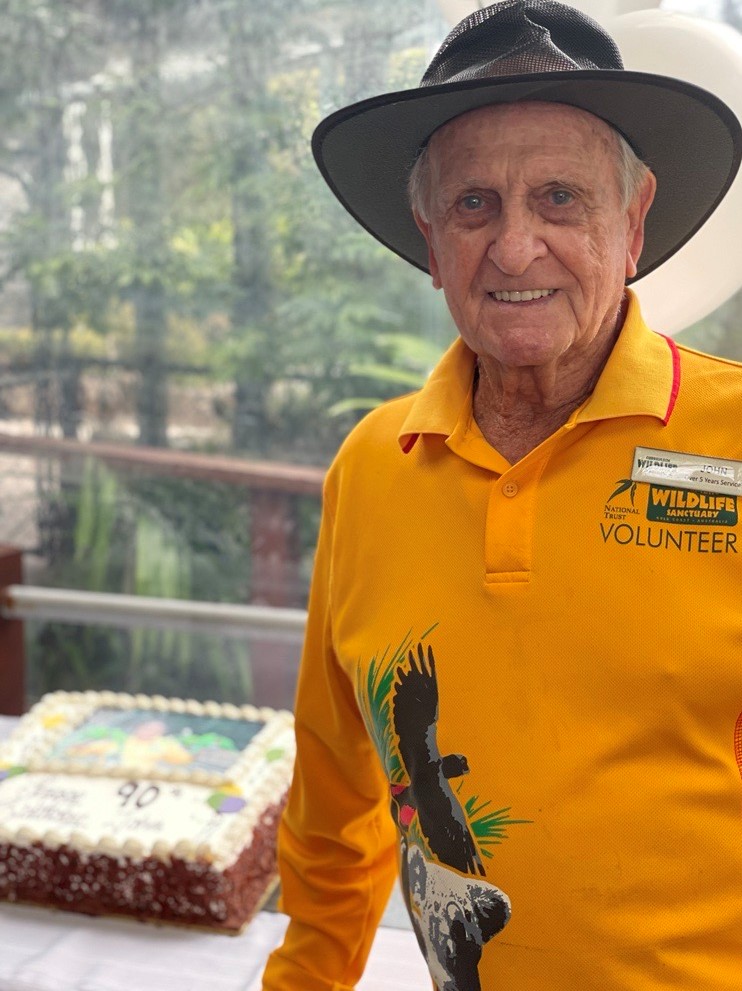 On Friday, October 22, 2021, John turned 90.
John lived through World War II and remembers being 15 and sitting in a school room when the announcement came that the war was over. He has travelled the world as the Superintendent of a U.S. energy company.
He's also been a Park Volunteer at Currumbin Wildlife Sanctuary for eight years.
John volunteers every Monday and Thursday for five hours, greeting guests, answering their questions, ensuring Currumbin Wildlife Sanctuary's visitors and animals are well taken care of.
He moved to the Gold Coast from Newcastle to retire in 1989, and some years later remembers encountering Currumbin Wildlife Sanctuary volunteers at a local shopping centre. He noticed them wearing yellow shirts, encouraging community members to get involved with the Sanctuary.
"There was a chap sitting in a seat and a lady who was standing there with a stick insect on her hand," John recalls. "And the man said to me, 'You know, you're required to do a lot of standing up and walking around – do you think you're up to it?' And I said, well I'm standing and you're sitting!"
In a fascinating coincidence, that wasn't John's first experience with Currumbin Wildlife Sanctuary.
"I visited Currumbin in 1959, when I was in my 20s," he remembers. "We saw this mob of birds and a big raucous going on here, so we just called in and had a look. I've actually seen the founder, Alex Griffiths! I'm sure it was him."
At that time, Alex Griffiths was drawing a crowd by feeding the lorikeets to keep them off his garden. Neither John nor Alex himself could have guessed that small-scale bird feeding display would grow into the Gold Coast icon it is today.
Decades later, in 2013, John's lifetime of loving wildlife inspired him to pull on Currumbin Wildlife Sanctuary's yellow volunteer shirt for the first time.
"I came from Boy Scouts in my earlier life and one of the things that interested me more than anything was animals and nature in general," he says. "I spent a lot of time in the Scouts and ended up being a King Scout. I got a certificate from King George VI in 1949."
For John, the most rewarding thing about volunteering is helping visitors get the most out of their day at Currumbin Wildlife Sanctuary. He recalls one of his fondest memories - showing a little girl around the kangaroo paddock with her grandparents and learning that her mother and father had passed away.
He says making her smile was unforgettable.
"It was special. I don't even know what her name was. And her grandparents said, 'I think she'll remember this for a long time'. Because suddenly she came out of the darkness. You could see it in her face. I nearly cried."
John has come a long way since his very first job delivering ice boxes in Armidale, Victoria. He's an integral part of Currumbin Wildlife Sanctuary's mission to inform visitors about the importance of wildlife conservation, so that our natural world can be enjoyed for generations to come.
"I just can't stay away from the place as a volunteer. Every day I get satisfaction from meeting people, from doing what I think is right and in general being part of an organisation that is unbelievable. Unbelievable people work at this Sanctuary. That to me is special."
Now a nonagenarian, you might expect that John has plans to step away from the demands of volunteering. But he has a fearless use it or lose it attitude to aging. His goal is simple: keep breathing and keep going.
"When I first started volunteering, someone said, 'How long will you be here?' and I said if I do five years, I'll be happy. Now, I'm looking at 10! I'll keep going as long as I can because I love the place."
"This is a happy area. And if it's a happy area, why not keep coming? Don't go anywhere where you're not happy."