Published On: 22 Nov 2021
Koala Vaccine Research Trial Update
Elanora
Things are ramping up with the Koala Vaccine Research Trial. Seven Koalas from the heavily diseased Elanora population have been vaccinated and released with GPS tracking collars as part of the trial.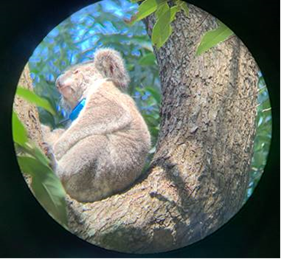 Cassidy, one of the Koalas participating in the trial
The goal is to capture and vaccinate a total of 30 Koalas in the Elanora area and track each Koala for three years, recapturing every six months to test for chlamydia, general health, reproductive status, and vaccine immunity.
Partnering with Queensland University of Technology's Professor Kenneth Beagley, Currumbin Wildlife Hospital has administered the lifesaving chlamydia vaccine to 135 Koalas that have been released back into the wild.
Currumbin Wildlife Hospital's chlamydia vaccine research trial is still in its early stages and wouldn't be possible without our supporters including the Neumann Family, Gold Coast Mayor Tom Tate and The City of Gold Coast, WildArk & Rotary.
Support Currumbin Wildlife Hospital Today