Published On: 31 Dec 2020
Currumbin Wildlife Sanctuary's conservation wins
Best of 2020
Despite the devastation of bushfires and the tragedy of the COVID-19 pandemic, new life is blooming at Currumbin Wildlife Sanctuary. Limited resources have presented challenges for the Sanctuary's ongoing conservation work, but through the tireless efforts of our dedicated team, six species have had big wins in 2020.
Thanks to a generous federal grant from the Honourable Sussan Ley, Minister for the Environment, an extra $802,000 will be injected into breeding programs for Eastern bristlebirds and Kroombit Tinker Frogs. This invaluable financial backing is part of the Australian Government's $4 million Environmental Bushfire Recovery Funding.
Eastern bristlebirds
CONSERVATION STATUS (northern population): Critically endangered
2020 has been a challenging year for the Eastern bristlebird. Bushfires last summer threatened many wild populations. Because of Currumbin Wildlife Sanctuary's expertise in caring for this endangered species, our staff were deployed to Victoria to help with the rescue of a population of southern birds trapped by fires.
These birds were captured and brought into captivity as an insurance population until fires were no longer a risk to their survival. Keepers worked with Zoos Victoria to set up and acclimate the birds in captivity until it was deemed safe to release them back to the wild.
Currumbin Wildlife Sanctuary has also been working to save the northern population of Eastern bristlebird, with numbers less than 40 in the wild. We hold the only captive breeding population in Australia. Every chick is a precious step closer to attaining our goal of breeding enough offspring to release back to the wild and bolster ailing wild populations.
Keepers have to lend a hand with the rearing of chicks when female birds are inexperienced. This ensures that each precious chick survives to adulthood to join the breeding stock. Hand rearing is a time-consuming process with young chicks, requiring hand feeding hourly from dawn to late night. It's certainly a labour of love, but this year it was well worth the effort.
With breeding season only just kicking off, keepers will be busy for many months ahead. Hopefully, there will be many mouths to feed!

Tinker Frogs
CONSERVATION STATUS: Critically endangered
Currumbin Wildlife Sanctuary has successfully bred the highly endangered Kroombit Tinker Frog in captivity for the first time!
In November, we witnessed the tadpoles beginning to hatch, and celebrated the history-making moment when the first of the tadpoles transformed into a tiny froglet. It's a win two years in the making; the Sanctuary began working in collaboration with the Queensland Park and Wildlife Service in 2018. We will continue this breeding program, raising Kroombit Tinker Frogs for release to the wild, to save this ancient species from extinction.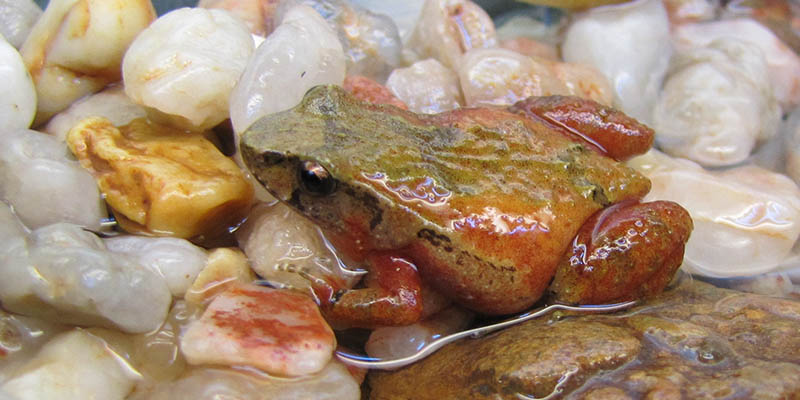 Koalas
CONSERVATION STATUS: Vulnerable
Expect to see a lot of new furry faces around the Sanctuary in the coming months! So far this Koala breeding season, we have seven new joeys already in pouches with another five more expected.
Keep an eye out for these cute and cuddly critters – they're all expected to emerge from their pouches in about six months! You can visit all our Koala mums in the Koala Nursery on the western reserve.
Our keepers and Gum cutters are working tirelessly to ensure all our Koala joeys are growing well and their mums are thriving.
Glossy Black-Cockatoo
CONSERVATION STATUS: Vulnerable
Forget creepy and kookie, Gomez and Morticia the Glossy Black-Cockatoos were adorable this year when they celebrated the birth of their new chick, Kirra in April. She wasn't much of a looker when she was born, but Kirra was a very welcome arrival! The species only lays a single egg every two years, and the continued loss of the large trees they call home in the wild has made them one of the most threatened species of cockatoo in Australia.
Kirra is Gomez and Morticia's sixth chick. At 10 years of age, the couple has been an integral part of the Sanctuary's breeding program since 2011. They had their first chick in 2015 and have continued to produce healthy babies every breeding season since!
Regent Honeyeater
CONSERVATION STATUS: Critically endangered
We have Regent Honeyeater chicks! This is the second successful hatch for our breeding pair this year. Recently, the two previous chicks made the journey down to Taronga Zoo for the collaborative breeding program for this Critically Endangered species.
Wildlife Collection Manager Saskia Lafebre says, "This is a very exciting program to be a part of as most years a portion of the captive bred birds are released to the wild as part of the National Recovery Plan. Sadly, the Regent Honeyeater was one of numerous species impacted by the bushfires last summer with significant portions of the habitat destroyed by fire."
Brush-tailed rock-Wallaby
CONSERVATION STATUS: Vulnerable
Our Brush-tailed rock-Wallaby family, Piston, Tigereye and joey Rocko are doing extremely well. So well, in fact, that they are already expecting the pitter patter of more little feet! Mum Tigereye has another joey in the pouch!
Mammal Supervisor Sarah Eccleston is thrilled: "This is fantastic news, not just for us all here at Currumbin Wildlife Sanctuary, but also for the species as a whole. These guys are listed as vulnerable nationally, so we are super proud that the pair are happy, healthy and breeding well, helping to save the species from extinction."
Currumbin Wildlife Sanctuary participates in 15 conservation projects, working to save unique and amazing species from extinction. But we need your help! Visit our website to donate and find out more about this important work.

DONATE today