Published On: 15 Sep 2020
Enzo the Koala and his keeper
Inspiring young conservationists with new kids' book
Koala Specialist and Mammal Supervisor Sarah Eccleston has dedicated 22 years of her life to Koala conservation at Currumbin Wildlife Sanctuary, but she never thought she'd publish a kids' book about it!
Have You Seen a Tree for Me? is a picture book, inspiring young readers aged 3 - 10 to become the next generation of Koala saviours! The story is inspired by Enzo, a real and very cheeky Koala who lives at Currumbin Wildlife Sanctuary. Author Sarah has helped to raise him since he was a joey.
In Have You Seen a Tree for Me? Enzo is growing up, so he sets off from home, leaving his mum to find a tree of his own. Sarah says, It's showing examples of the dangers Koalas face in the wild – loss of habitat, the introduction of domestic animals and then of course roads.
The story's messages of love, adventure and conservation will ignite children's passion for the environment and educate them about how to protect our precious local Koala population. Sarah says there are little things we can all do to make sure Koalas are around in the wild for years to come: Keep your dog locked up at night, plant a tree in your backyard, drive carefully when you're in Koala habitat. And they're little things that the kids can nag about to their mums and dads.
Currumbin Wildlife Sanctuary is now home to more than 50 Koalas and is committed to Koala conservation through breeding programs. For decades, Sarah has been involved with research into artificial insemination and chlamydia amongst Koala populations. She wants to inspire young people to follow in her footsteps. Some of the most important Koala habitat on the Gold Coast is just disappearing before our eyes. I really just want to save these guys, she says. That's my passion. I've done my part now, so I need to leave a legacy to ensure the younger generations are looking after them into the future.
Have You Seen a Tree for Me? features colourful artwork by renowned illustrator Jenni Goodman. Sarah considers herself an unlikely author. Never thought in a million years that I'd be writing a children's book, or that it would be on sale for people to buy! She says her 9-year-old son and the children of the Sanctuary's other keepers inspired her to put pen to paper. Every book purchased will raise critical funds for conservation and Koala food plantations.
The story has been adapted into activity books, which will be available free with every child's general admission ticket purchased for Currumbin Wildlife Sanctuary throughout September, which is National Koala Month.
Have You Seen a Tree for Me? hit the shelves on September 15, available at the Currumbin Wildlife Sanctuary gift shop, QBD bookstores and online. Order your copy today!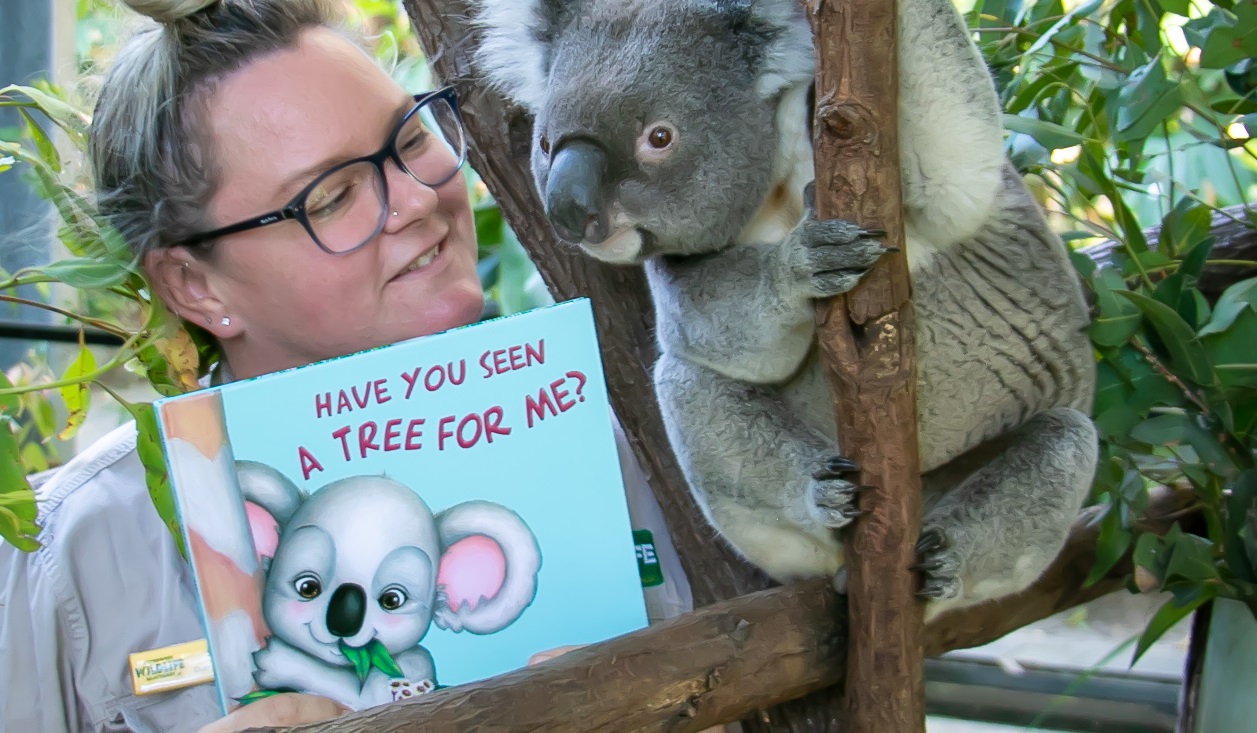 Order Today!