Published On: 01 Aug 2023
The Matildas have scored a cuddly 24th teammate with Currumbin Wildlife Sanctuary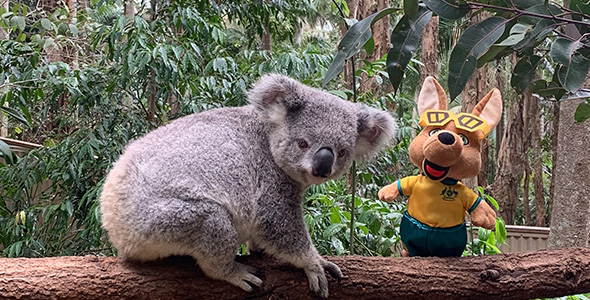 The Matildas have scored a cuddly 24th teammate with Currumbin Wildlife Sanctuary naming the newest member of their growing Koala colony, 'Matilda', in support of Australia's most popular soccer team. The furry addition has been cheering on the team from a eucalyptus-filled enclosure on the Gold Coast.
Currumbin Wildlife Sanctuary Koala Specialist Sarah Eccleston said Matilda, the Koala joey, was named by animal carers after they watched the Aussie football team's journey and realised that just like the on-field champions, Koala Matilda is ready for a long, hard fight.
"The real Matildas are achieving great things and many of the staff and volunteers at Currumbin Wildlife Sanctuary have been following their journey closely. When discussing a name for the newest addition to our Koala nursery, 'Matilda' was a clear favourite and seemed very fitting," said Sarah.
"Matilda' is very sweet but also a bit cheeky. She is already making herself known in the Koala nursery just like the Matildas in the FIFA Women's World Cup tournament.
Koala Matilda was born at Currumbin Wildlife Sanctuary on the Gold Coast 12 months ago as part of a successful breeding and conservation program. Newly weaned from her mother, carers at Currumbin Wildlife Sanctuary expect she will soon join the program to help protect the future of the endangered species.
"Matilda is full of fluff and about 25 cm in size. Like many babies she has been trying to hang onto her mum as long as possible. But Mum's had enough and said it's time to get going. Today we introduced her to "Tilly," a plush mascot," said her human mum, Sarah.
"In true champion fashion, she showed some curiosity in the toy, but she kept her eyes on the prize, the eucalyptus leaves nearby. We hope that's the same for our Aussie girls; that they keep their eyes on the prize, the World Cup Trophy.'
Having recently celebrated 75 years of operation, Currumbin Wildlife Sanctuary is an iconic tourist attraction on Queensland's Gold Coast and has felt the benefits of increased tourism from the many interstate and international travellers visiting for the FIFA Women's World Cup tournament.