Published On: 20 Sep 2019
How to make the most of your visit these school holidays
by Holidays with Kids writer, Narelle Bouveng
When it comes to my kids' favourite local place to visit, one easily tops their list. And no matter how many times we drop in, it's still the first name they shout out when I give them the option of choosing where to go: "CURRUMBIN WILDLIFE SANCTUARY" (said in loudest outside voices).
But it's not only for the feel-good factor of Currumbin Wildlife Sanctuary being an educational experience for my children, which as a parent I champion of course, but more so that education is wrapped up so symbiotically with fun.
My kids love that they can smell Currumbin Wildlife Sanctuary well before they can see it, which sounds gross - however #kids... but stay with me on this one. What they are referring to is also something I adore and remember from my own childhood, too: the uplifting fragrance of eucalyptus infused with sea air that acts as a sensory welcome even before we make it through the gate.
We also know through our regular visits that koalas like to munch their way through 200-500 grams of crunchy, eucalyptus leaves a day! And while it makes them ever so sleepy due to the energy needed to digest their leafy greens, it also provides the air with the most deliciously, nasal-cleaning smell for visitors.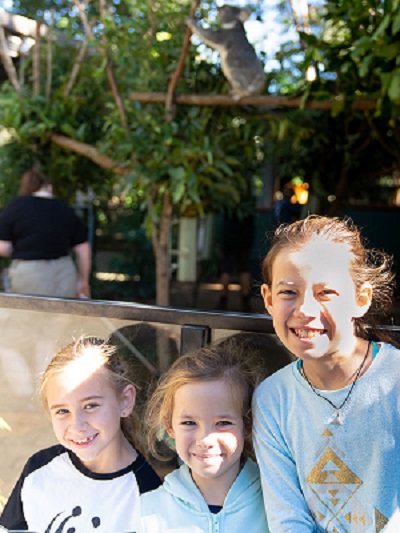 Once inside the gates, our first stop is always the train, and first hop off point – literally – the kangaroos. Now being regulars with our National Trust of Australia annual passes, my children know all the tricks in ensuring they get their food gobbled and not ignored by the 'roos. The most important tip - arrive early. Everyone loves feeding the kangaroos, but people visiting throughout the day can out-number the friendly 'roos a few hundred to one. They can only eat so much so make your planned feeding time in the morning.
So fond of the kangaroos my children have names picked out for them too: Tomato Sauce is the biggest, reddest of them all, Princess Pretty has the longest eyelashes and Preggie, which may seem like an odd name for kids to call a kangaroo, but as they spend so much time at the sanctuary, they also know many animal facts. This includes female kangaroos spending most of their joey-rearing years being pregnant - sometimes with multiple babies on the way, but all at different stages of the pregnancy cycle. Quite literally, as soon as one baby is ready to hop out of the pouch, another one is already hopping in. For being one of the world's best mothers, we always give the mummas a little more love and adore nothing more than getting a glimpse at a gorgeous joey, so be sure to look for the kangas with their pouches hanging fairly low to the ground (#mumlife).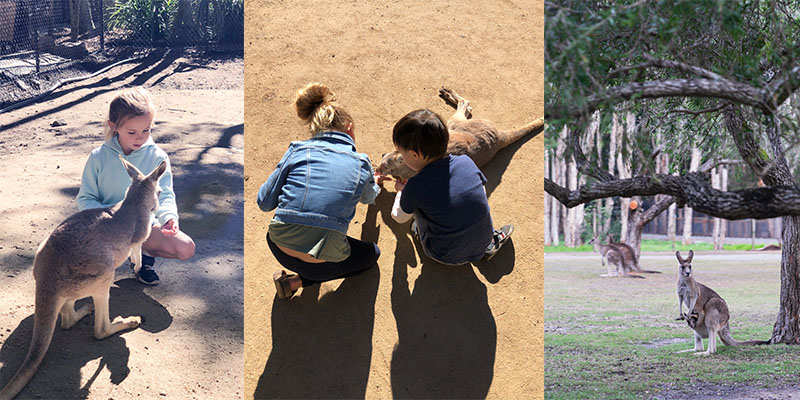 After all the feeding, the kids are usually hungry too and their favourite place to dine is Wild Burger - not just because they rate the hot dogs and the criss-cross fries (sooo good), but because it has a playground AND (their favourite bit, but not necessarily mine) a candy shop. My kids love candy, and because visiting Currumbin is considered a special day out, they are usually allowed a treat. If however, you prefer your kids to eat healthier, the Sanctuary Cafe near the entrance also serves a range of delicious, fresh food options such as salads, fruit cups, wraps and great coffee.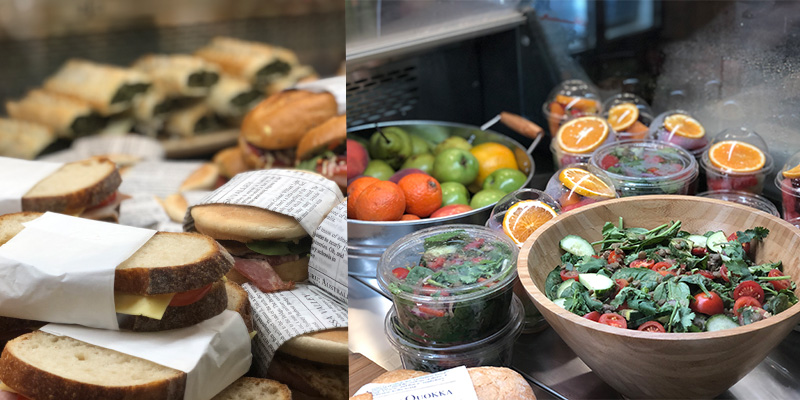 From here we wander through the Lost Valley, which is where the Ring-tailed Lemurs live, and their antics are as unpredictable as they are hilarious. High jinx manoeuvres are almost guaranteed, which absolutely thrills my kids, but be sure to time your visit for the sunniest parts of the day so you can see them sun baking with their arms outstretched pulling a few meditative techniques. These guys can be boisterous, and here's a fun fact - there are two brothers Sunni and Katta who love to stir up their friends Andro and Vintana. Sunni is the chief, so my kids like to call him King Julian for fun!
Snaking our way past the high ropes tree top challenge (always on their wish list and something we like to do on birthdays or for an extra special treat), we make our way to the Free Flight Bird Show, WildSkies, which still mesmerises my kids even though they have seen it plenty of times. We marvel at the incredible birds of prey that fly low enough over our heads for us to feel the power whipped up by their wings. My daughter also likes to recount a fact gathered here when we travel - and that is when we spot a red-tailed black cockatoo in the wild and it is calling out, it's a sign in Aboriginal lore that rain is coming. And so far, for us, proven to be 100% accurate.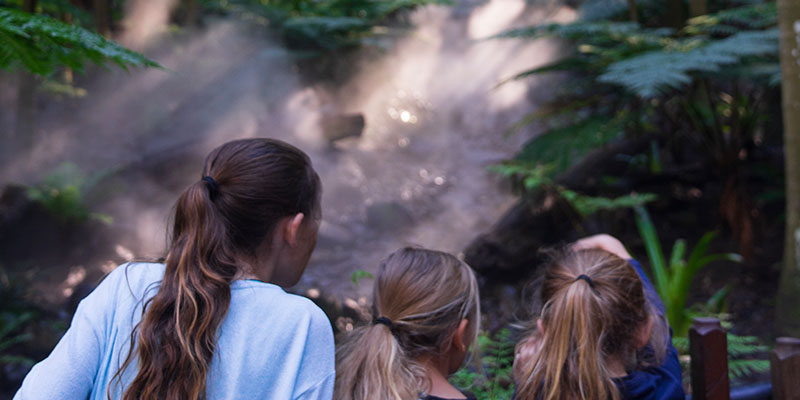 Another must visit is the Currumbin Wildlife Hospital and my children are always keen to press their little faces against the window to watch real life operations taking place. It is not scary as you may expect - instead, incredibly fascinating to see the animals brought in from the wild and the injuries they have suffered that could largely have been avoided if humans were more aware. Lessons in keeping our cat inside at night, the dog on a leash in bushland, slowing down while driving through koala crossing zones and just being on the lookout for sick or injured wildlife have all been learned here.
The animal hospital is also a great hands-on learning station where my kids love to test their wingspan and weights against the Australian animals on the charts provided (my youngest daughter weighs almost as much as a Hairy Wombat and me, (oops) a male kangaroo!). My kids also like to test their inner vet by "treating" the fluffy toy koalas, snakes and kangaroos with bandages, injections and some good old cuddles administered as TLC at the kid-friendly first aid station.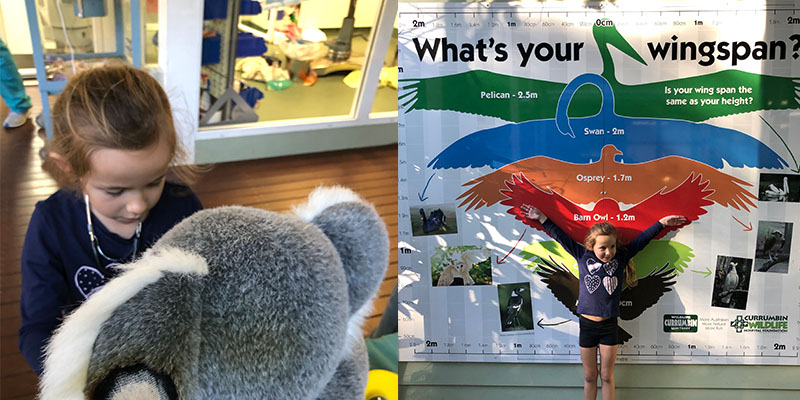 Our final stop is always Blinky Bill's Treehouse. We love to wander in the darkened rooms first to see if we can spy the nocturnal creatures that call it home (a Bilby is always high on our wish list), but then spend at least an hour riding the curly slide with Perspex peeping holes. Not as many people know about this slide but it is close to the exit point for the park also, so is the ideal final ride bribe when it is time to go home.
If you go: consider the household membership that gives 2 adults and up to 4 children under the age of 14 years (living at the same address) unlimited entry to Currumbin Wildlife Sanctuary and free admission to other National Trust of Australia attractions for $229.00 annually. We have visited 6 times since buying our passes, which equates to just over $38 for our family of five per visit, plus, free car parking at Currumbin Wildlife Sanctuary (saving a further $10 per visit) and various special offers and discounts on food and retail offers too.
buy tickets today