Published On: 12 Aug 2020
Cuteness overload with a baby BOOM
At Currumbin Wildlife Sanctuary
Whilst things in the world remain uncertain, our new Sanctuary babies bring with them hope for the future, a sign that there is light at the end of the tunnel. They are a lovely reward for our keepers who continue to passionately care for all the animals in their care.
The Sanctuary is currently committed to 16 conservation projects determined to help save some amazing species from extinction.
One of those is the Glossy Black Cockatoo. Earlier this year, the 6th chick to be bred at Currumbin Wildlife Sanctuary hatched, much to the joy and delight of Sanctuary staff. 'Kirra's' arrival is certainly a cause for celebration, as the species only lays one single egg every 2 years. Her doting parents Gomez and Morticia will take care of their baby until she is ready to safely leave the nest, usually at about 18 months old.
Another new arrival is a Brush-tailed Rock-wallaby joey and whilst it is still too early to confirm the sex, it is very rewarding to welcome him/her given that the species is listed as vulnerable nationally.
After 6 months or so of staying safe and snug in her Mum's pouch, a gorgeous new little Koala Joey has come out to say hello. The sweet little girl's Mum, known as Lady Bug is almost 6 years old now and plays a very important role in the future of Koalas.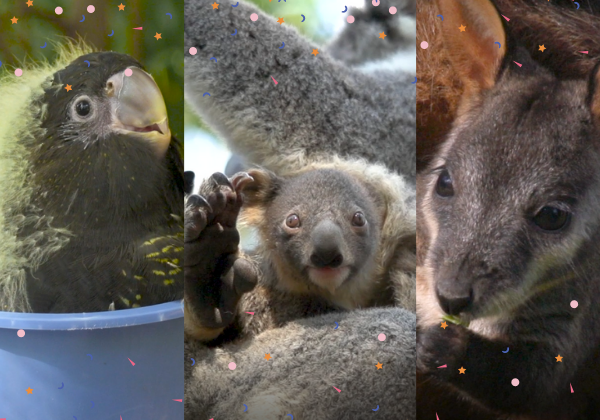 It's the start of breeding season, so the little joeys who were bred last season are all starting to come out." said Koala Specialist, Sarah Eccleston This little girl is super cute!
Many Koala populations are in serious decline and everyone's favourite furry friends are also listed as vulnerable. They are under serious threat from disease, habitat destruction, dog attacks and vehicle strikes.
A local icon for more than 70 years, the Sanctuary remains focussed on the conservation of wildlife, determined to preserve it for generations to come. Like founder Alex Griffiths who started feeding lorikeets at the Sanctuary site, staff and volunteers continue his legacy even through the toughest times.
Currumbin Wildlife Sanctuary General Manager, Michael Kelly is excited about the latest arrivals. As a not-for-profit, charity organisation, a visit to Currumbin Wildlife Sanctuary helps us continue the work we do with critically endangered species and for the care and protection of all native animals.
During these uncertain times, we rely on the support of our locals to keep our doors open. You can help by visiting the Sanctuary, becoming members of National Trust Queensland, adopting an animal, or providing a donation.
Glossy Black Cockatoo Chick
Brush-tailed Rock-wallaby Joey
Koala Joey