Published On: 30 Jul 2019
A Day in the Life of our Exotic Wildlife Officer
If you've been to Currumbin Wildlife Sanctuary in the last 10 months, chances are you've visited our captivating new attraction, Lost Valley (it's hard to miss!).
Spanning five acres of abundant rainforest, this one-of-a-kind ecosystem experience shines a light on over 300 species of flora and wildlife that once co-existed when the earth's landform was one – the ancient supercontinent Gondwana.
And if you're wondering who has the incredible role of caring for the exotic collection of unique birds, mammals and reptiles who call Lost Valley home (we're talking adorable Cotton Top Tamarins, Capybaras, Lemurs and even a Red Panda!), we'd like to introduce you to a very important member of our team here at Currumbin Wildlife Sanctuary…
Meet Mel, our Wildlife Officer – Exotics, who is responsible for all things Lost Valley, from the maintenance of habitats, to the daily care and welfare of the cheeky, chatty and shy residents who inhabit this wondrous rainforest.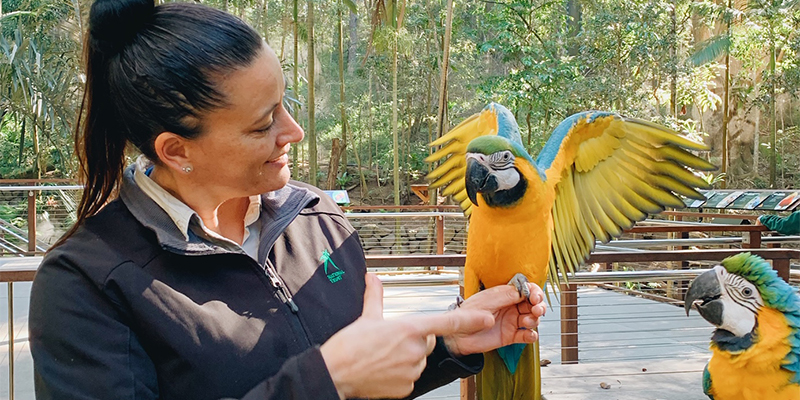 While Mel has only been with us for less than two years, she has a unique connection with the Sanctuary that dates back to her early childhood. Having grown up right here on the Coast, she spent much of her younger years exploring, wandering and admiring the animals here at Currumbin – in fact, her late father was Curator of the Sanctuary for many years, so it feels like a second home for Mel, and holds a particularly special place in her heart.
Three years in the making, the launch of Lost Valley was an important milestone for Currumbin Wildlife Sanctuary, so building the right team to manage the day to day operations and care for its inhabitants was critical. Mel is a big part of our Lost Valley squad and when it comes to the saying "do what you love and you'll never work a day in your life," there is no better advocate.
"For me, one of the most rewarding parts of my job would have to be those magical moments of connection and understanding that happen when you've built a strong, trusting relationship with an animal.
"Though we speak a different 'language', we are both 100% engaged in conversation during each and every interaction – it's just fascinating!" says Mel.
Each day differs for Mel and her team in the Lost Valley, but one thing remains constant – it's always busy! A 'typical' day involves servicing and maintaining animal habitats, preparing their food, managing meal times, tending to any medical needs, record keeping, creating new enrichment items, guiding volunteers, and supervising the cheeky Lemurs and Macaws as they roam around the expansive precinct.

Possibly one of the most important tasks that Mel and our staff undertake is animal conditioning to ensure that the wildlife is as comfortable as possible not only in their home environment, but also around staff and guests.
A number of the Lost Valley family members have been conditioned to interact with visitors during special tailored animal encounters; the beautiful and unique thing about these encounters is that the animals are never forced to participate. Rather, they are free to come and go as they please, which Currumbin Wildlife Sanctuary prioritises above all else, as this ensures the experience is interactive, positive, organic and stress-free for guests and animals alike.
Mel is also passionate about conditioning the animals in her care for voluntary participation, particularly when it comes to their health care routine – there is a real science behind training animal behaviours! The team uses positive reinforcement techniques to condition the animals to willingly participate in various day-to-day activities, such as taking medications and presenting for weigh-ins (though we can't blame them if they are a little shy when it comes to stepping on the scales every now and then!).
But for Mel, when there is a real 'light bulb' moment during a conditioning session and something just 'clicks', it's a very special and rewarding time when handler and animal connect and there is a true understanding of what the team is asking of them.
"For me, it's all about relationships, the conversations and the bonds built between myself and the animals in my care."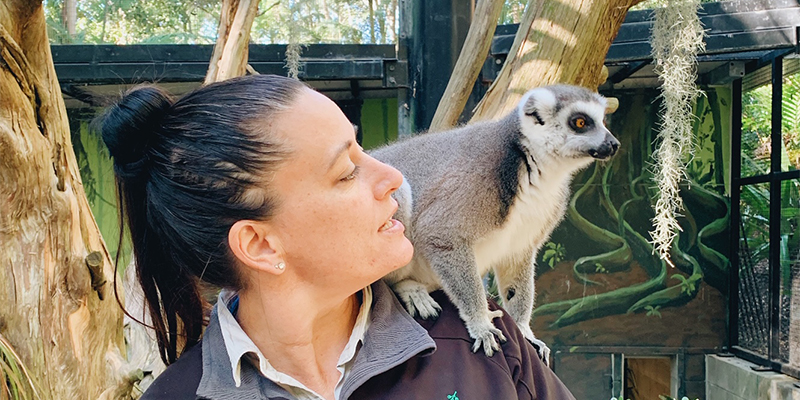 And speaking of relationships, Mel's made quite a few 'besties' in her time at Lost Valley, including Momo the adorable Red Panda and Enam, the Sanctuary's new Binturong (also known as a bearcat), who both melt her heart on a daily basis with their sweet, gentle nature.
Then there's Elmo, the cheeky two-year-old Blue & Gold Macaw, who keeps the team on their toes with his sassy personality and sharp intellect (he's often likened to a needy toddler!). But while this brilliantly coloured bird species is quite a handful, they are well worth the hard work and make a welcome addition to the Currumbin family.
She really could keep rattling off her favourite animals all day long (just ask her!), so be sure to stop into Lost Valley on your next trip to Currumbin Wildlife Sanctuary and pay Mel and the team a visit. Say hello and catch our wildlife enjoying everything from swimming and sunbathing, to scaling trees, flying through the canopy, and foraging for their next meal.
Currumbin Wildlife Sanctuary's Lost Valley is open from 10.00am – 3.00pm daily (with a short lemur lunch break from 12.30 – 1.30pm), and entry is included in general admission tickets.

buy tickets today