Published On: 03 Feb 2021
10 Surprising Facts About Currumbin Wildlife Sanctuary
1. 73 YEARS OF CONSERVATION
Currumbin Wildlife Sanctuary is one of the longest-running tourist attractions on the Gold Coast, operating for 73 years! When Dr. Alex Griffiths founded the park, originally called the Currumbin Bird Sanctuary, we doubt he could ever have imagined it would someday be visited by almost 600,000 locals and tourists each year!
Alex Griffiths officially opened the Sanctuary in 1947. Back then, it was a small-scale lorikeet feeding display, but it quickly gathered momentum! By 1964, the much-loved miniature railway was born in the park. By this time, a wide array of animals already called Currumbin Wildlife Sanctuary home.
In 1989, Currumbin Wildlife Hospital was founded, offering a free service to the community, treating, rehabilitating and releasing sick, injured and orphaned wildlife. The hospital's experienced team has also been contributing to world-leading research programs ever since.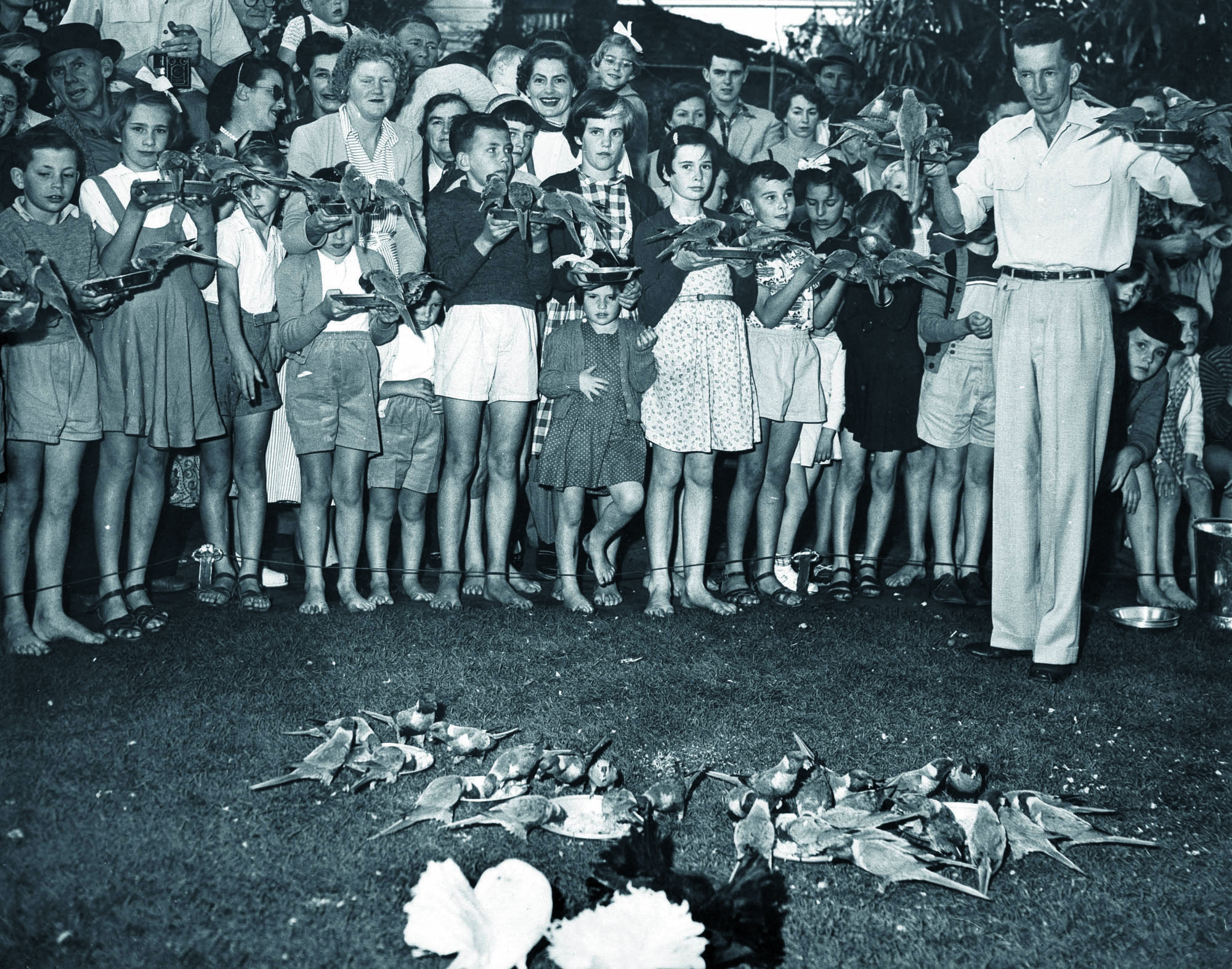 2. "THE LOCALS KEEP COMING BACK EVERY DAY"
Did you know that the first locals to be return guests at the Currumbin Wildlife Sanctuary were Rainbow lorikeets?
Before founding Currumbin Wildlife Sanctuary, Alex Griffiths was a local beekeeper and flower grower. But he became frustrated by the wild Rainbow lorikeets that were ravaging his prized gladioli blooms. His unique solution was to distract the lorikeets by feeding them!
The flocks of colourful birds, which descended upon Alex Griffiths' property daily drew the attention of locals and visitors and became the inspiration for the Sanctuary's first slogan – "Where the locals keep coming back every day!"
From humble beginnings, the first attraction at Currumbin Wildlife Sanctuary was born. Now many visitors talk of times when they were younger – when they visited the Sanctuary to feed the masses of wild lorikeet that came each day.
3. OUR PREHISTORIC LOST VALLEY
A little piece of the prehistoric world remains at Currumbin Wildlife Sanctuary's Lost Valley!
One of the largest free-flight aviaries in the Southern Hemisphere, Lost Valley is a hidden treasure that is home to more than 300 species of flora and fauna, who run and fly free alongside you as you explore!
Come face-to-beak with Eclectus Parrots, Moluccan Red Lories, Black-capped Lories, Satin Bowerbirds, Emerald Doves, Chiming Wedgebills, Golden Pheasants and Mandarin Ducks. You can meet friendly Ring-tailed Lemurs and marvel at the obscure beauty of exotic reptiles.
Tracing the footprints of dinosaurs, Lost Valley offers five acres of stunning rainforest to explore. You'll experience life on Gondwana before it split, forming present-day Australia as well as many other continents around the world such as Africa, South America and Antarctica.

4. WE HAVE AN APP
While you're visiting Lost Valley, make sure you download our app to play our augmented reality Lost Valley Game! It's perfect for tech-savvy tweens!
You'll have the ancient world in the palm of your hand as you travel millions of years back in time, snapping up-close photos of awesome alligators, slithering snakes and dangerous dinosaurs! Real-life and virtual reality intertwine, as you spot these quirky creatures hiding amongst Currumbin Wildlife Sanctuary's residents!
The aim of the game is to find and photograph 11 virtual creatures throughout the prehistoric supercontinent of Gondwana. Photographs are ranked for their creativity. They can be stored and shared, ensuring the experience is unforgettable.
Our app is great for the grown-ups, too. Use our interactive map to pre-plan your day. Receive push notifications when the shows you want to see are about to start, and record and share highlights throughout the day.

5. OUR VOLUNTEERS ARE HEROES
We have a huge community of about 500 volunteers, who work throughout our Sanctuary and hospital in a diverse range of roles. Without them, we would not be able to conduct our important work.
We have three volunteering programs. You will see our Sanctuary Park Volunteers scattered around the Sanctuary, wearing eye-catching gold shirts and helpful smiles. Their work includes answering your questions about the Sanctuary's animals and attractions, and helping you feed and interact with our precious animals.
Our Wildlife Volunteers work behind the scenes to maintain our horticulture or to feed and enrich our animals so that they remain happy and healthy ambassadors for their wild counterparts.
Hospital Volunteers may be found working on reception, receiving injured and sick wildlife brought in by the public. They also assist our vets and nurses with their life saving work.
There are so many roles that these unsung heroes take on. It can be hard work, and they must be fit, healthy and dedicated. They come from all walks of life, but they have one thing in common – their commitment to and love of Currumbin Wildlife Sanctuary and Currumbin Wildlife Hospital!
You can stay updated on when to apply for our volunteer programs online.

6. WE DO EVENTS
With 27 hectares of bushland and rainforest settings, as well as themed wildlife habitats, Currumbin Wildlife Sanctuary provides unique venues for every kind of event: Breakfasts, Luncheons or Dinners, Social Club Functions, Weddings, Cocktail Parties, Team Building Days, Conferences, and Family Fun Days.
Personalized wildlife experiences and functions in the wild are just some of the options that can be tailored for any event. Our flexible events team can tailor special packages to suit almost any budget and request. The Sanctuary's in-house chefs craft delicious menus, with gluten free and vegan options available. Have a chat to our award winning events team today!
For an extra special touch, arrange a guest appearance by one of our furry, feathered or scaly ambassadors…or a private guided tour!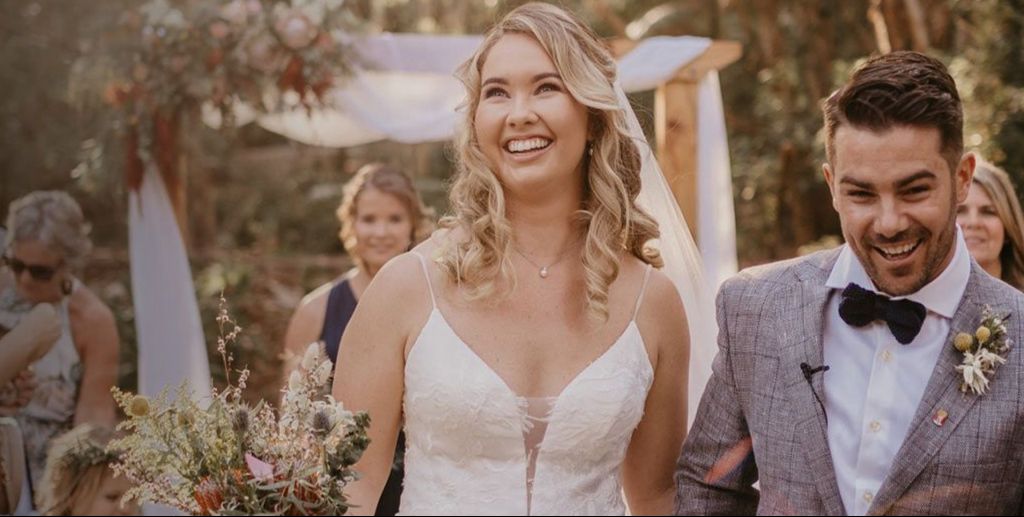 7. YOU CAN GET EVEN CLOSER TO OUR ANIMALS
Get nose to nose with a Capybara, take a stroll with a Dingo, or learn the ancient art of falconry with our spectacular birds of prey. Our wildlife encounters allow you to get closer than ever to the residents of the Sanctuary. Encounters make great gifts, with a variety of animal experiences designed for nature lovers. We even have a special encounter for little ones from the age of just four. See our website for terms and conditions. For safety reasons, many of our experiences require children to be accompanied by a paying adult.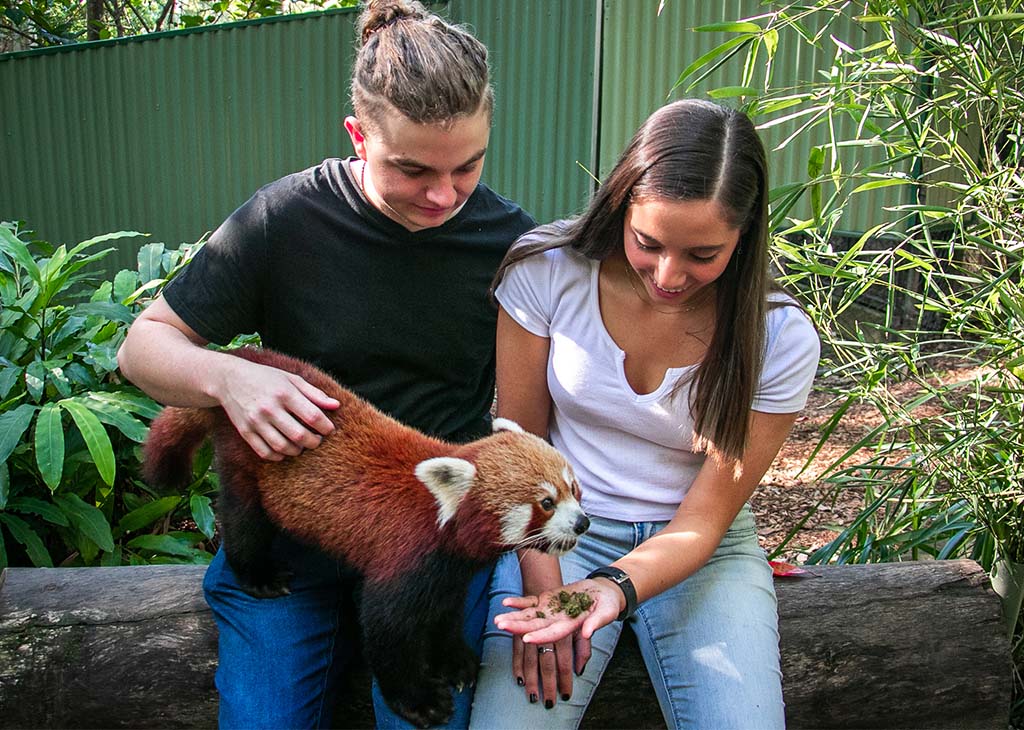 8. KIDS, BRING YOUR TOGS
After a full-on day of exploring the Sanctuary, there's no better way to cool of than our Wild Island Adventure Splash Zone. This fun water park surrounded by our beautiful native flora and fauna offers kids under the age of 13 a range of timed jets, streams and waterfalls to run through. Surrounded by sculptures of Australian wildlife and natural features, there's plenty for active little ones to climb and explore…so don't forget to bring your togs when you visit us!

9. WE HAVE 15 CONSERVATION PROGRAMS
Currumbin Wildlife Sanctuary's team works tirelessly to save our amazing Australian wildlife from extinction. We have 15 different conservation programs, focussed on preserving our native fauna for generations to come.
Our successful breeding programs include Glossy Black-Cockatoos, Koalas and the critically endangered Kroombit Tinker Frog, which, in a history-making achievement, was successfully bred in captivity for the first time at Currumbin Wildlife Sanctuary this year!
We rely on community support to continue these projects, and we welcome donations from generous nature lovers.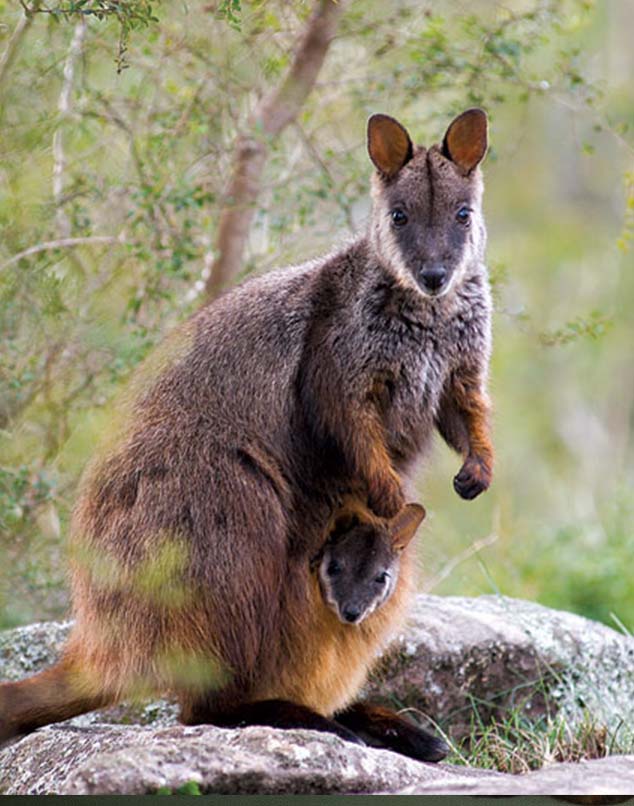 10. OUR HOSPITAL IS ONE OF THE BUSIEST IN THE WORLD
Currumbin Wildlife Hospital is one of the busiest of its kind in the world, caring for more than 12,000 animals every year. In the past 20 years, our hospital has admitted 140,000 animals, and that number continues to grow!
The great, year-round work of our vets and nurses to treat, rehabilitate and release sick, injured and orphaned wildlife is only possible thanks to generous community donations. Did you know that treatments for Koala chlamydia or Koala retrovirus, two major causes of fatality amongst the wild population, cost approximately $7,000 per animal?
Our hospital has also worked with leading universities to develop a promising chlamydia vaccine. The Hospital aims to immunise all Koalas that are admitted before they are reintroduced to their natural habitats, to reduce mortality rates amongst the wild population.
You can take a peek behind the scenes and watch the hospital's talented team at work, thanks to our daily Wildlife Hospital Presentations. Visit our hospital deck and watch our presentation team host live conversations with our vets and nurses as they carry out their life-saving work in real time. You might even see a surgery take place!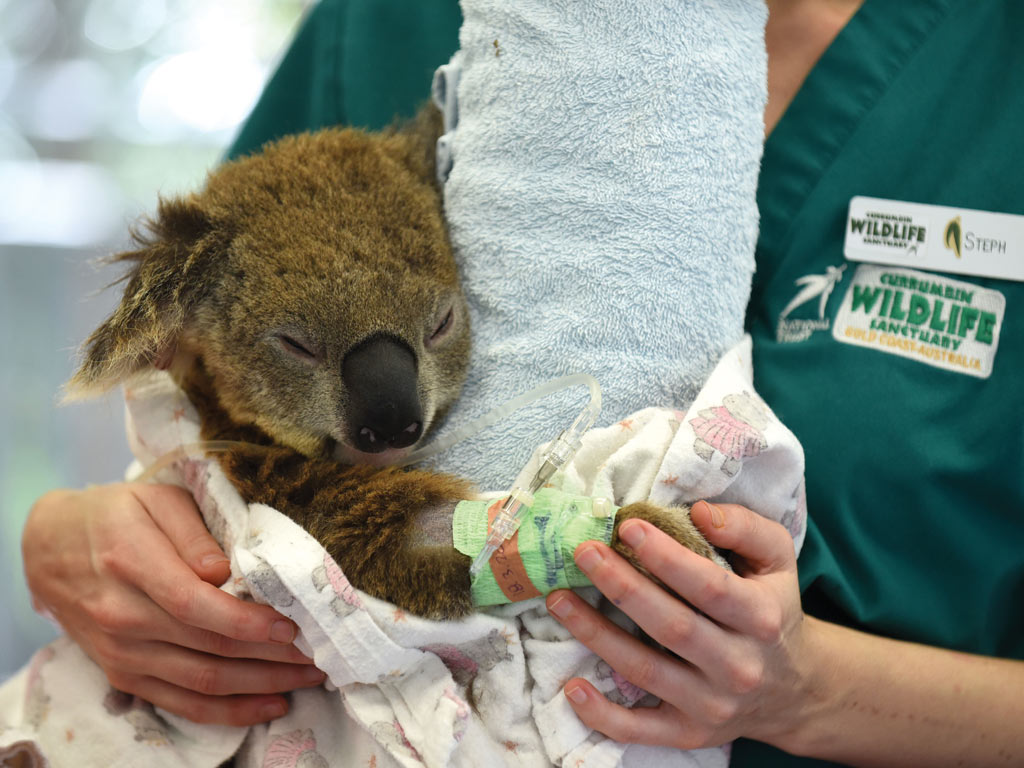 BONUS FACT – WE ARE A NOT-FOR-PROFIT ORGANISATION!
All of our profits go back into ensuring that we can continue our great conservation work for generations to come!
Currumbin Wildlife Sanctuary is part of the National Trust of Australia (Queensland), a membership-based charity that focuses on environmental conservation, heritage conservation, cultural heritage and the preservation of important collections. By becoming a member of the National Trust of Australia (Queensland), you not only have access to the wonderful world of Currumbin Wildlife Sanctuary, you will gain admission to all of our properties across the state, from Cooktown to Currumbin!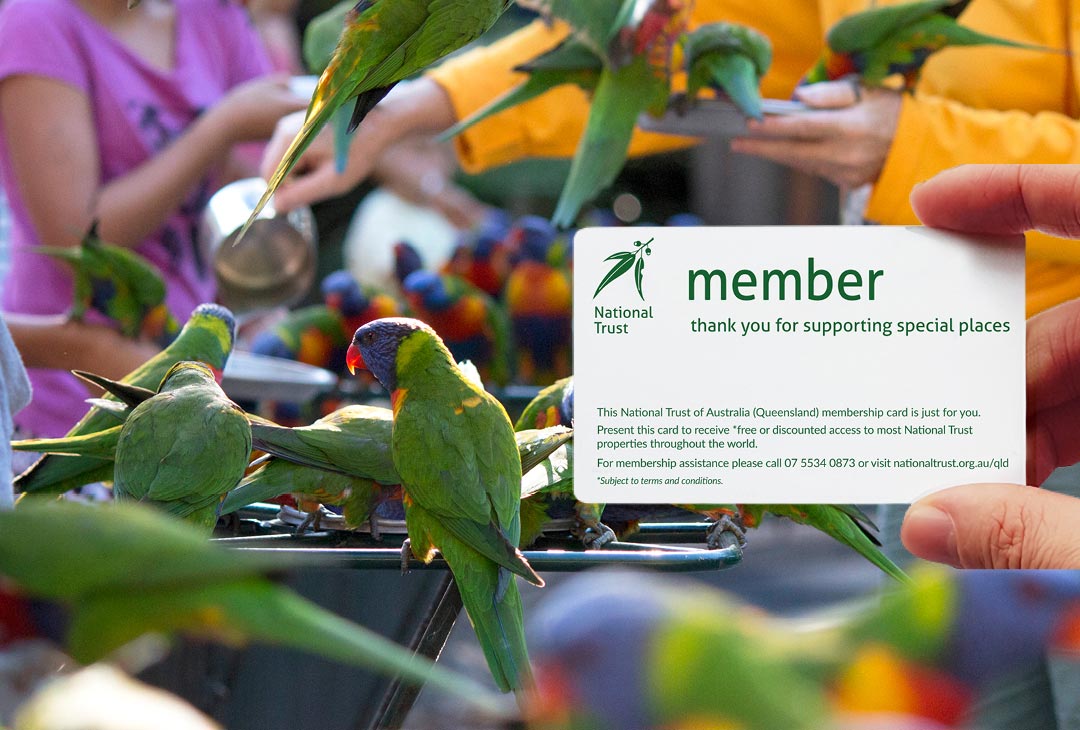 buy tickets today