Published On: 23 Jan 2018
Journey To A Lost Valley: Things That'll Stop You In Your Tracks
Visitor highlights from the Sanctuary's all-new 'Lost Valley' attraction
The covered areas of the Gold Coast's pristine Currumbin coastline bear hidden secrets of a prehistoric nature. The whole family can now explore the new and unmissable heritage and history within an ancient Lost Valley vista. With so many things to do and see, it's easy to get lost in a forgotten world; but what's so unmissable about this new animal attraction?
Set amongst this extraordinary landscape of Aussie rainforest and bushland, that is Currumbin Wildlife Sanctuary, are exotic species of plants and animals sure to stir the soul of any adventurer.
A place where kids run free to indulge in their love of nature, and adults pause to take in the scenery.
See Frank the Capybara go for a swim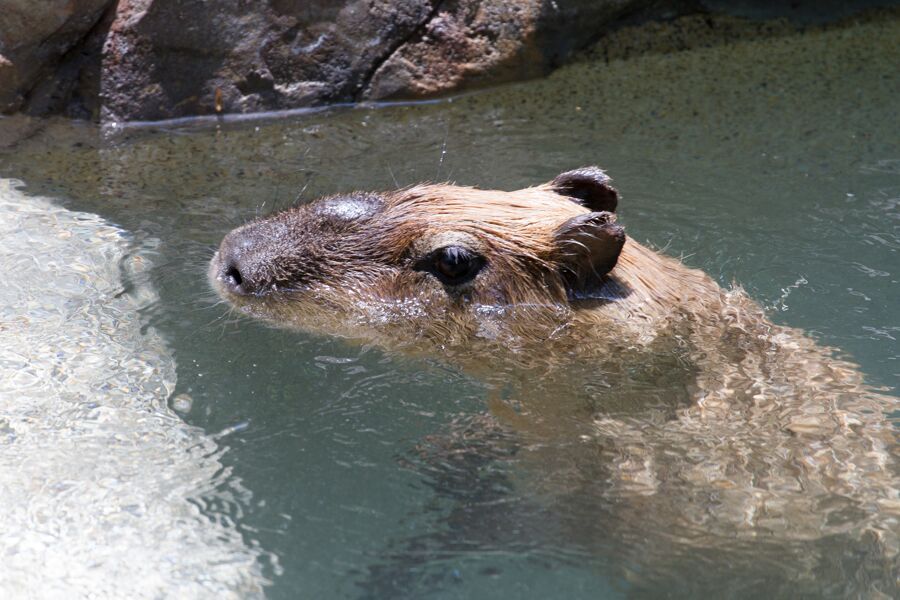 First up, witness Frank, the world's largest rodent, as he makes a splash to show he's our starring Lost Valley resident. Water is definitely an element this Capybara is comfortable with, and Frank will often spend time in his very own pond, showing off his graceful swimming style.
Hang out with cheeky Lemurs Andro and Vintana
Meet Momo, the magnificent Red Panda
Another enchanting Valley favourite is a beautifully bright-eyed and bushy-tailed Red Panda (also known as Nepalese panda, fire fox, or tree cat) named Momo. Momo is a shy resident, who enjoys spending the day in a slumber atop the trees – becoming more active at dusk, dawn or throughout the night. This little Romeo will be paired with his female partner for breeding this year, so be sure to visit us again soon!
Learn about the evolution of Gondwana
Lost Valley takes visitors on an expedition through time to explore the wonders of our Gondwana history with recreations of a historical rainforest. Discover the evolution of our planet's land masses, and how Gondwanaland broke free to drift away from Laurasia during the Cretaceous period. Our interactive board is a fun way for families to learn more about the journey of our ancient ancestors, and how they've come to exist today.
Say hola to Diego, our Green Iguana
Catch a glimpse of the king himself – our Lost Valley "dinosaur" (a Green Iguana named Diego) – and learn all you need to know about this extremely large lizard's prehistoric past. What better way to pay tribute to the park's ancient rainforest backdrop?

Take a selfie with a #Spinosaurus
Currumbin Wildlife Sanctuary's 70-year-old history has certainly seen some big changes over the years; but despite the park's progression, it's those treasured family memories that play the biggest role in shaping our love for this national treasure. In 2018, our Lost Valley kids have found their affinity with an unlikely subject – a Spinosaurus statue. So snap those cheeky grins and be sure to share your #currumbinsanctuary memories with us.
Monkey around with our Cotton-Top Tamarin family

Meet Mitu – a single father responsible for cheeky monkey sons Toro, Arami and Pablo – all of whom have great, punk-rocker hair! Visitors have already found a place in their hearts for this close-knit family of four – despite their Cotton-top Tamarin monkey business.

Encounter a Tree Kangaroo in the branches of Lost Valley
Set amongst Lost Valley's tropical treetops is a home for our peacefully stirring marsupial inhabitants – but these animals are distinctly different from the Kangaroos that live on foot at Currumbin Wildlife Sanctuary. Bagi, Biwa and Simbu are adapted for climbing trees, and all three possess unique personality traits – a popular sight to see for many of our visitors, as Goodfellow's Tree Kangaroos are notoriously difficult to spot in the wild.

Currumbin Wildlife Sanctuary's Lost Valley is an experience not to be missed, and these highlights are just the tip of the iceberg. Here, in this all-new open enclosure, lies some of the world's rarest and most extraordinary flora and fauna – where visitors come face-to-face with all the animals.