Published On: 30 Jan 2018
Things To Do Gold Coast
6 Activities and attractions that won't cost you a fortune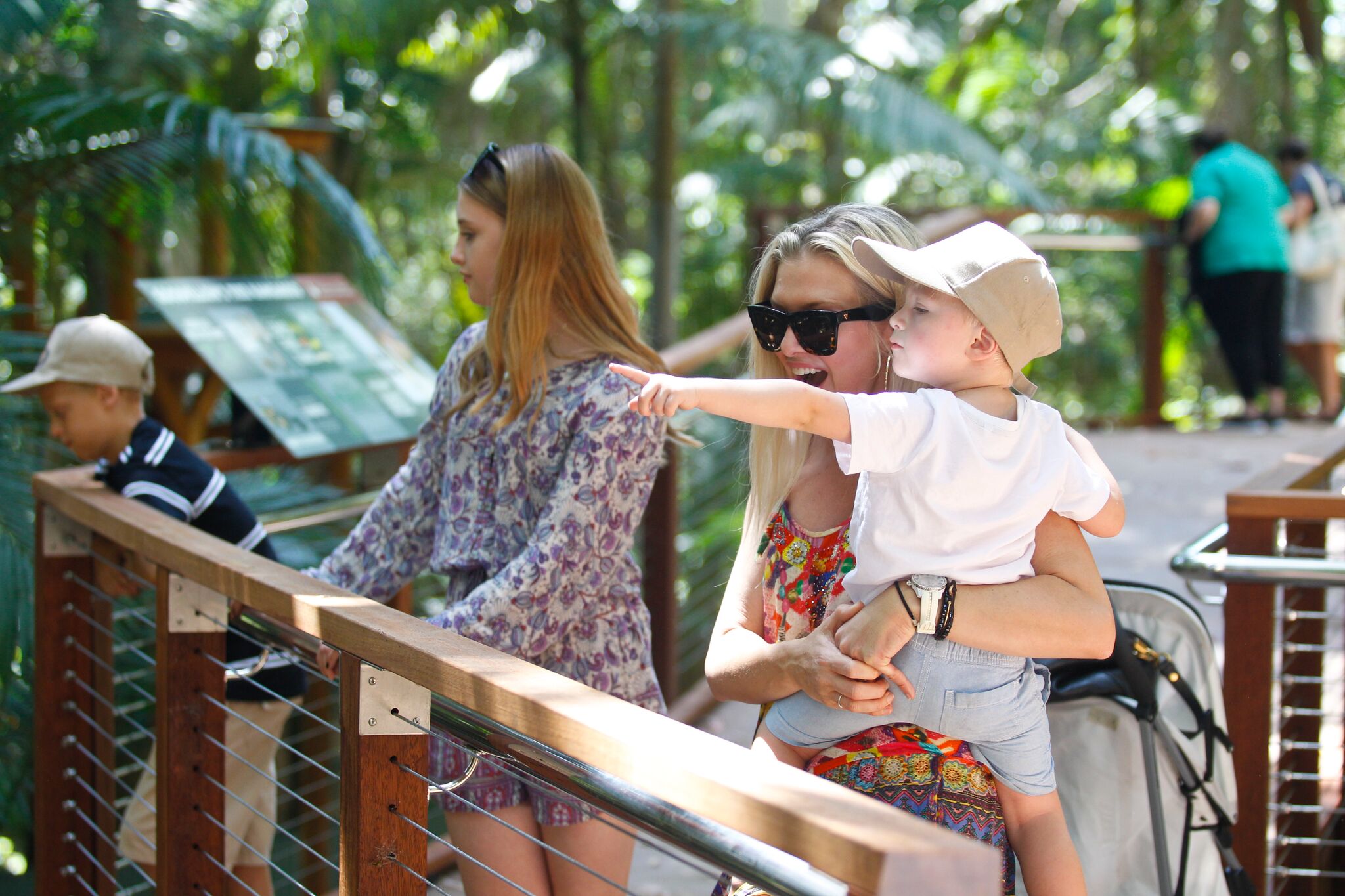 There's a lot more to Australia's golden holiday destination than its endless sunshine and glorious stretches of pristine beaches – and sunkissed Gold Coasters know just how to appreciate the hidden delights of their laid-back locale. With the city's incredible coastlines and surf breaks, attractions and thrills, food and café culture, nightlife, and lush hinterland – families and travellers can explore everything the Gold Coast has to offer without breaking the bank.
Here's the ultimate itinerary for your upcoming break:
1. Experience the best of all lookout
A peaceful drive will take you to the mountain ridges and inland trails of the Gold Coast's glorious World Heritage Listed Springbrook.
Springbrook National Park is surely a sight-to-see for every nature enthusiast, with its unique biodiversity and lush canopies over valleys and ranging walking tracks. Take snapshots from popular sites like The Best Of All Lookout (#nofilter necessary) – or follow rainforest trails surrounded by birds and prehistoric trees that lead you to Natural Bridge or Purling Brook Falls. Escape the summer heat with temperatures seven degrees cooler than the city. The crisp mountain air will indulge the senses and soothe the skin as much as a sprinkling of mountain water cascading down the falls.
But if you'd prefer not to step too far from the coastlines, check out these beachside options...
2. Explore endless sunny shorelines
White sand, clear sparkling water, and some of the best surf spots in the world can be found on the Gold Coast.
Ah! The Coast's famed coastal strip and the all year round enjoyment that takes place (even in winter) is enough to appease any visitor to Oz.
Set up a picnic or light up the barbie at Burleigh Point and watch the golden surfers paddle out into the lineup as you wait for the sun to go down. The iconic Burleigh Headland is also a gateway to an ocean circuit of rock formations and coastal vegetation – a National Park trail that's popular among outdoor fitness fiends and tourists, who pinch themselves at the epic views. Along the way are several side tracks that take you down to the rocky foreshore and sandy beaches of Tallebudgera Creek.
And whether you're a beginner or a more experienced surfer, the Gold Coast's famous breaks offer something for everyone. Rainbow Bay's Snapper Rocks delivers swell for the world's best, while Currumbin Alley (around the corner from us) boasts the perfect conditions for learners and longboarders alike.
3. Cuddle a koala
A koala meet and greet is surely on your checklist of things to do on the Gold Coast. These Eucalypt-eating natives are even more adorable close up, and the heritage-listed Currumbin Wildlife Sanctuary is one of the best places on earth to experience a koala cuddle and photo.
4. Visit the bustling night markets
Night markets have quickly become somewhat of a religion on the Gold Coast, and locals are simply spoilt for choice – but a coastal contender emerged in late 2014.
Every Friday, Currumbin Wildlife Sanctuary's Village Green opens up to satisfy a flock of foodies and families. The Sanctuary Markets is an international street food precinct with a global offering of delicious cuisines, as well as gluten-free, vegan and vegetarian options for the health conscious visitor. The venue is set up with craft stalls, fresh produce and live music, as well as a fully licenced bar serving local wine and craft beer to quench the culinary-crazed crowds.
When: 4 – 9pm every Friday (free parking in Currumbin Wildlife Sanctuary car park)
Where: On the corner of Tomewin St & Teemangum St
5. Get your adrenaline pumping with outdoor activities
Understandably, enjoying the Gold Coast's breathtaking landscape, diverse natural environment, and open air calls for an exciting outdoor adventure.
Experience unforgettable thrills and action atop the Sanctuary trees and sweeten your inner daredevil by taking on a Tree-Top Challenge High-Ropes Course. Perched high above in a bushland canopy are 80 challenges that have you zipline over Goodfellow's tree-kangaroos, Tasmanian devils, dingoes, and even crocodiles, for an adrenaline-charged day to remember.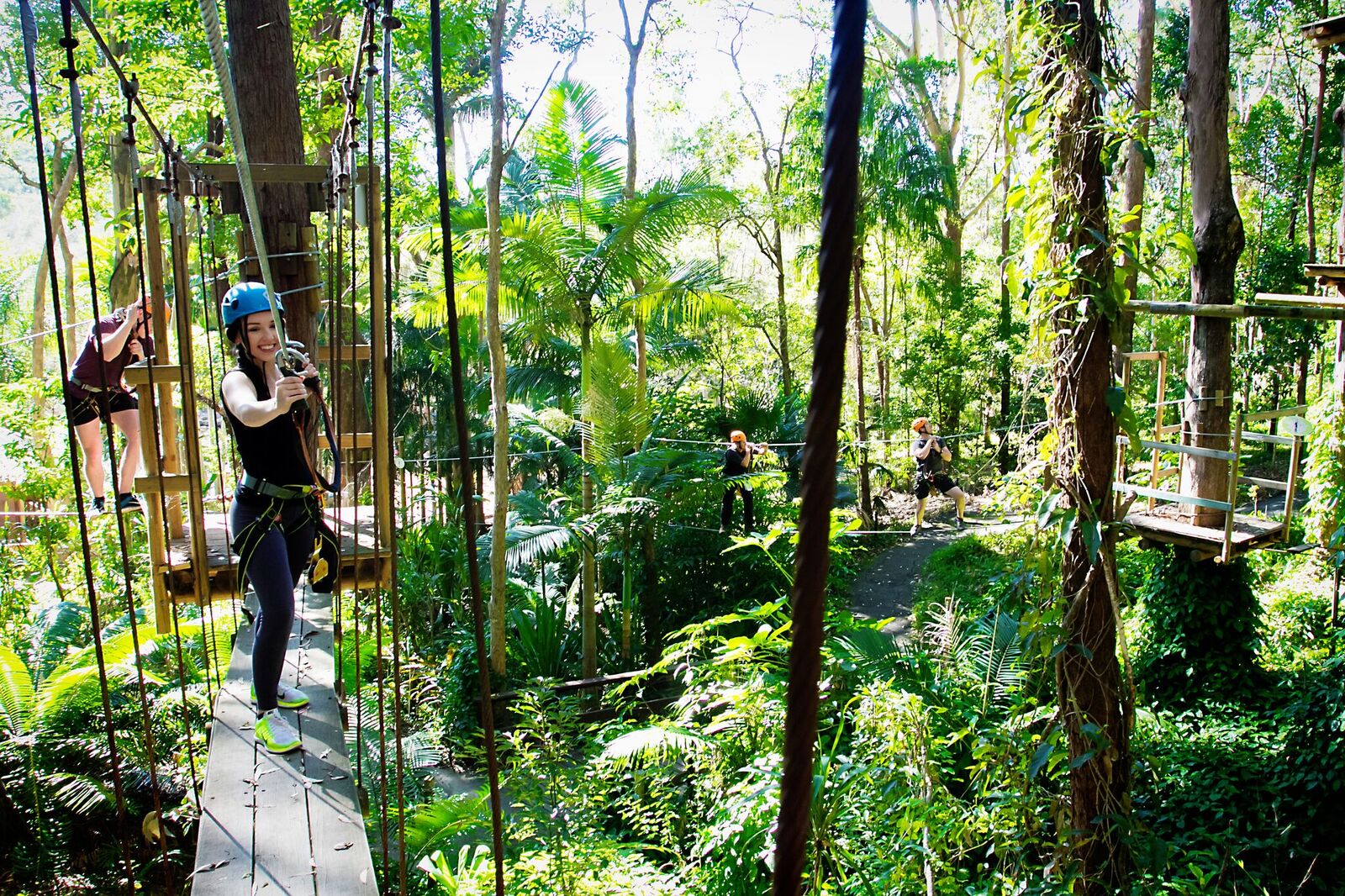 6. Discover a 'Lost Valley'
Currumbin Wildlife Sanctuary's new attraction lets you explore a forgotten world.
There are few locals and visitors who have graced the Gold Coast without paying a visit to the iconic wildlife haven. Now, the public has been gifted another reason to visit with the opening of 'Lost Valley' and the arrival of its exotic inhabitants – ring-tailed lemurs, capybaras, cotton-top tamarins, red pandas, free-flying birds and exotic reptiles (just to name a few). The experience is included in your entry ticket to the Sanctuary – a great value option for families.
What's your favourite thing to do on the Gold Coast?
Use the tag #currumbinsanctuary to share your favourite activities via Instagram or Facebook.