Published On: 26 Mar 2019
A Day in the Life of a Koala Specialist
Each month, we're bringing you a new and exciting installment as part of our wildlife handler blog series – Meet Our Family. We figured you're probably pretty well acquainted with our animal family by now, but have you ever wondered who the people are behind the scenes that make Currumbin Wildlife Sanctuary so special? And what is it that they actually do each day?
Last month we gave you a sneak peak into a day in the life of our resident bird-lover Allison, who works with our feathery brood here at Currumbin Wildlife Sanctuary, and today we're going to introduce you to our very own koala expert…
So without further ado – meet Sarah, Mammals Team Leader and Koala Specialist.
Just ask Sarah what she thinks of her role at Currumbin Wildlife Sanctuary, and she'll tell you straight up – "I have the best job in the world – it's as simple as that. From the animals I get to work with, to the amazingly passionate people around me – this is not just a job to me, this is my family". And when you think about it, is there really any better way to spend your day than caring for, playing with and snuggling up to our adorable Aussie icons?! You'd do well to convince us otherwise.
Having worked at the Sanctuary for almost 20 YEARS, Sarah is a firm believer of the motto that "you never work a day in your life if you love what you do", and if her extensive stint at Currumbin Wildlife Sanctuary is anything to go by, this absolutely rings true.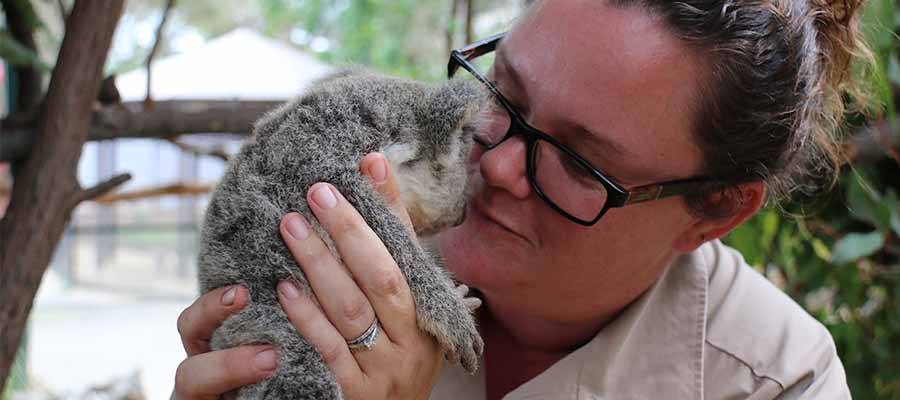 Over the years, Sarah has had some pretty special moments that she considers stand-out career highlights – from travelling and working with Currumbin's koala collections internationally, to breeding the endangered species of Tasmanian Devils, it's these experiences that she believes make her incredibly lucky to do what she does.
Her knowledge of animal behavior is exceptional, particularly our mammal brood, including kangaroos, wallabies, dingoes, wombats, bilbies, echidnas, and of course, koalas.
Sarah's day typically kicks off at 7am, although – like Allison – she's the first to say that each day is never typical, normal or the same: "The joys of working with animals means you never really know what awesome adventures may be around the corner! But generally, it would involve monitoring and stimulating the animals, preparing special diets, and lots and lots of cleaning!"
Sarah also gets to play matchmaker on a regular basis, and while it might not be all hearts and flowers when it comes to animal rendezvous (it's more about a good genetic match than romantic sparks!), breeding is an important part of Currumbin Wildlife Sanctuary's conservation remit in order to ensure wildlife populations – especially species at risk of becoming endangered - continue into the future.

When it comes to Sarah's animal families that she cares for, she likes to think they all live very happy, engaged and fulfilled lives.
"From our kangaroos spending their days making friends with and being hand-fed like Wildlife Gods by our guests, to the Tassie Devils lapping up the sunshine from their grassy knolls and taking dips in their personal plunge pools – we're very much committed to ensuring our animal family are living their best life!
"We're also extremely dedicated to ensuring they live a stress-free life, and this forms part of our training techniques. For example, we train our animals to step onto the scales for their regular weigh ins, and create certain routines to make these everyday tasks positive and relaxing experiences," says Sarah.
To wrap up our one-on-ones, we like to ask each of our wildlife handlers what their favourite animal is that they work with – and for most, it's a pretty tough question to answer! For Sarah, she's got a definite soft spot for her beloved koalas (the Sanctuary is home to over 50), and the Tasmanian Devil community – of which she's helped to breed nine as part of their critical conservation work.
"I get to work with some of the most amazing animal species in the world – and some pretty awesome people, too." So all in all, Sarah is giving us all the #jobenvy feels – be sure to stop in and say hello to her and the team on your next visit to Currumbin Wildlife Sanctuary!