Published On: 23 Nov 2022
Currumbin Wildlife Hospital needs Christmas wrapping elves!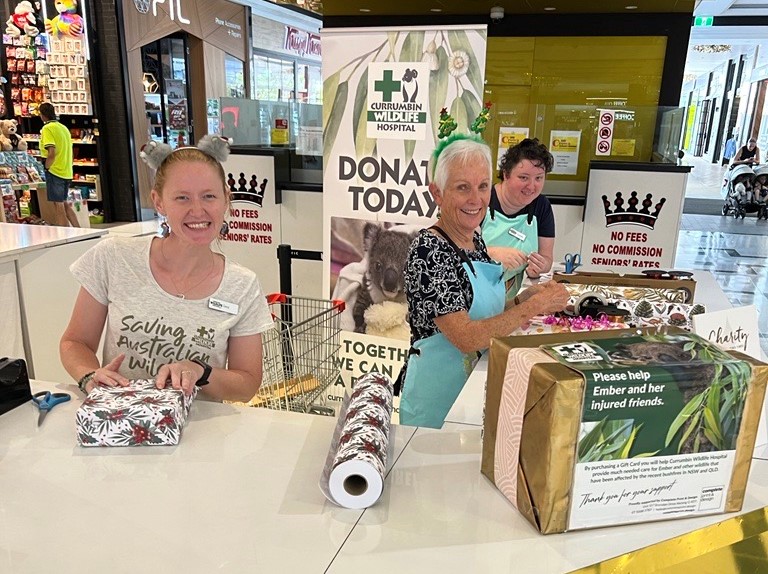 Give the gift of your time this Christmas and join the generous community of people helping to save wildlife!
Gift Wrapping at Pacific Fair is an annual community event run over two and a half weeks in the lead-up to Christmas Eve. We need hundreds of volunteers to give their time, energy and gift-wrapping skills to raise funds for Currumbin Wildlife Hospital. We invite you to join us, whether you are an accomplished or amateur gift wrapper.
Each year, Pacific Fair Shopping Centre generously provides the space, high-quality wrapping paper and ribbons for Currumbin Wildlife Hospital to "wrap up a storm" for wildlife by offering a gift-wrapping service to all shoppers.
100% of the proceeds go towards the hospital's mission to treat, rehabilitate, and release around 15,000 sick, injured, and orphaned native wildlife each year.
Community and corporate members of the community are being asked to kindly donate their time from Thursday 8th December until Christmas Eve.
Apply now to join the hundreds of gift wrappers and save wildlife this Christmas!
The goal of this event is to raise awareness and much-needed funds for our precious wildlife. Currumbin Wildlife Hospital operates with the support of 180 volunteers, five full-time veterinarians and 15 vet nurses that perform the lifesaving treatment.
"The future of many native species is at risk, so it's more important than ever for the Australian community to work together to save wildlife. There is no better gift we can give than saving our precious and innocent wildlife." Dr Michael Pyne, Senior Veterinarian Currumbin Wildlife Hospital.
What can you do to help?
Join the team of gift-wrapping volunteers, it's easy, and high-quality gift-wrapping skills are not essential.
Bring your Christmas Gifts to the Currumbin Wildlife Hospital Gift Wrapping kiosk and donate.
Tell your friends and family!
Applications are now open – CLICK HERE to apply:
Donate to Currumbin Wildlife Hospital: