Published On: 29 Apr 2019
A Day in the Life of a Reptile Specialist
For many of us, the thought of working alongside some of the world's most feared and dangerous (and often misunderstood!) reptiles and amphibians on a daily basis sounds absolutely terrifying, but for Michael, our very own reptile specialist, every day at Currumbin Wildlife Sanctuary signals another thrilling adventure.
Heading up the Reptile and Amphibian Department as Supervisor, whilst also holding the role of Reptile Specialist, Michael's experience with the Sanctuary's cold-blooded creatures is extensive and impressive, having been on the team for six years (and at Currumbin for 10).
When it comes to his 'regular' day-to-day happenings, Michael and his team often find themselves in what most of us would consider some pretty precarious positions – croc feeding; alligator conditioning; snake handling – you get the idea.
It goes without saying that this is no ordinary job filled with some incredible 'pinch me' moments, but when you scratch the surface, there is also a fascinating and vitally important conservation element that underpins what Michael does here at Currumbin.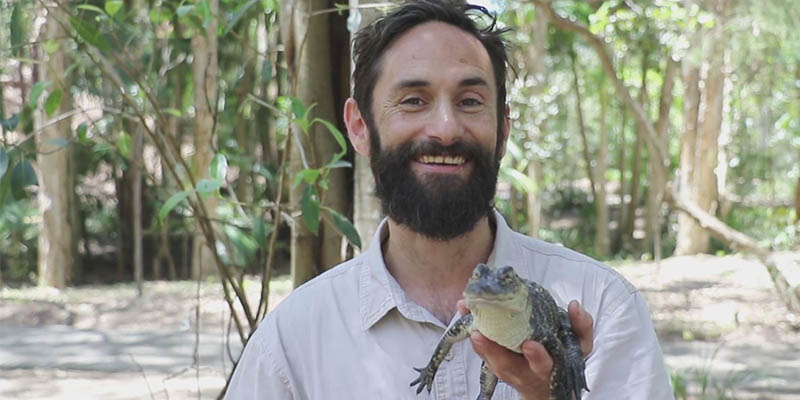 In a nutshell, he is responsible for just about everything and anything to do with the care of the Sanctuary's reptile and amphibian family, which currently comprises 38 different species – ranging from snakes to frogs, Saltwater crocs, American alligators and even a Green Iguana. His role also extends to staff training for reptile handling (as you can imagine, there is a serious level of skill involved in this), as well as assisting with wild reptiles that come into the hospital.
Regular duties include tending to any medical needs, cleaning and maintaining the animals' enclosures, and developing new enclosures – essentially the team is constantly looking for new ways to improve the lives of the various animals in their care.
When it comes to mealtime, unlike other animal species, interestingly reptiles don't typically feed every day (can you imagine…!). They actually prefer to eat 3-4 per week! Ensuring these animals maintain optimal nutrition and health is a big priority.
Michael and his team also spend a significant amount of time monitoring and adjusting the lifestyles and environmental surroundings of their animals, whether it's perfecting the water temperature for bathing; locating the ideal spot to sunbake; pinpointing new hiding places; or creating new substrates to dig through.
Every job comes with its challenges, and for Michael, his often come from breeding-related issues with critically endangered reptile or amphibian species. Currently, he is working on a vitally important program with The Kroombit Tinker Frog, of which there are potentially less than 300 individual frogs of this species in existence today.
The frog's existence has been threatened by infection from a chytrid fungus, which has spread to many corners of the globe and is thought to have claimed around 200 amphibian species since the 1980s. Now, through extensive research, field work and a world-renowned breeding program, Michael and the team are hoping to start the critical recovery of this endangered frog right here at Currumbin Wildlife Sanctuary.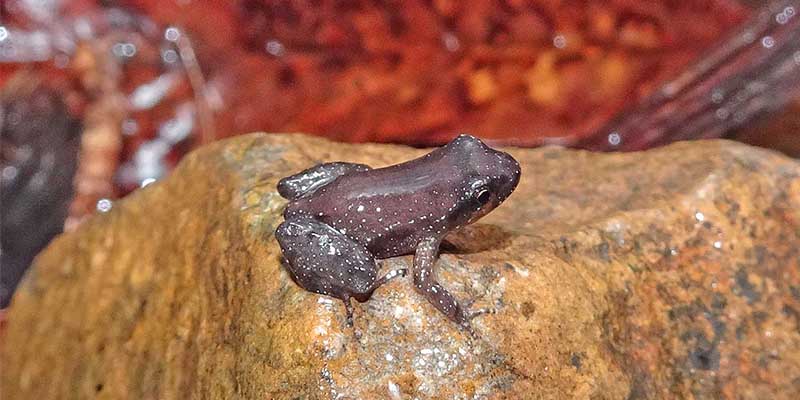 On a more positive note, there are so many rewarding facets of Michael's role, and if he had to whittle it down to just one, he says caring for the wildlife, particularly those species that are misunderstood – such as venomous snakes – is right up there.
To round out our catch up with Michael, we wanted to pose the oh-so tricky question about what his favourite animal is… and believe it or not, it's NOT a reptile! It's in fact his adorable pet dogs – Whiskey the Staffy x Labrador, and Goldie the Kelpie.
Be sure to pay Michael and the team a visit on your next trip to Currumbin Wildlife Sanctuary, and while you're there, give our reptile and amphibian friends a friendly hello at the Big Fang Theory (running daily at 10.45am) Crocodile Behaviours Show (daily at 1pm), or the incredible Lost Valley rainforest experience (open daily from 10am – 3pm and included in entry ticket).