Published On: 03 Mar 2021
Every Day is World Wildlife Day at Currumbin Wildlife Sanctuary
March 3 marks World Wildlife Day, a moment to celebrate and raise awareness of the world's wild animals and plants.
But here at Currumbin Wildlife Sanctuary, we consider it our mission year-round to protect unique and threatened species so that they can be enjoyed for generations to come.
This World Wildlife Day, we invite you to take look inside our 15 conservation programs and find out more about the work we do to protect and preserve some of the world's most exceptional creatures.
KROOMBIT TINKER FROG
CONSERVATION STATUS: Critically endangered
With an estimated population of just 300 Kroombit Tinker Frogs in the wild, the species is under grave threat of extinction.
The greatest danger to the frogs, who live in small patches of the Kroombit Tops National Park south-west of Gladstone, Queensland, is a chytrid fungus. This pathogen has spread to many parts of the world and decimated many amphibian populations.
It was a huge achievement when Currumbin Wildlife Sanctuary, working alongside the Queensland Park and Wildlife Service, became the first institution in the world to breed Kroombit Tinker Frogs captivity in 2020.
We hope to continue breeding, in order to release some of these amazing animals into the wild.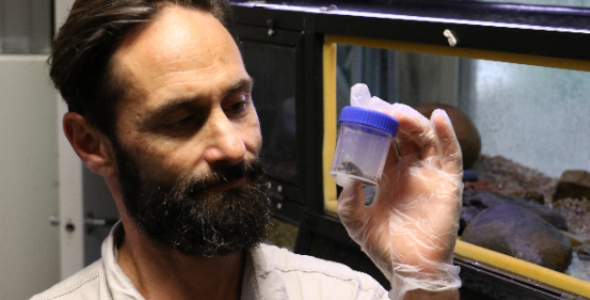 EASTERN BRISTLEBIRD
CONSERVATION STATUS: Northern population critically endangered
There are now only four populations of Eastern Bristlebird in the southern Queensland and northern New South Wales regions, with only 35 birds estimated to live in these areas. 15 years ago, 154 birds were recorded in the same regions, so the species is in rapid decline.
Currumbin Wildlife Sanctuary holds the only captive breeding population in Australia, our keepers often aiding inexperienced Bristlebird mums by painstakingly hand-rearing their precious chicks. Our ultimate goal is to breed an appropriate number of the species to begin releasing some back into the wild.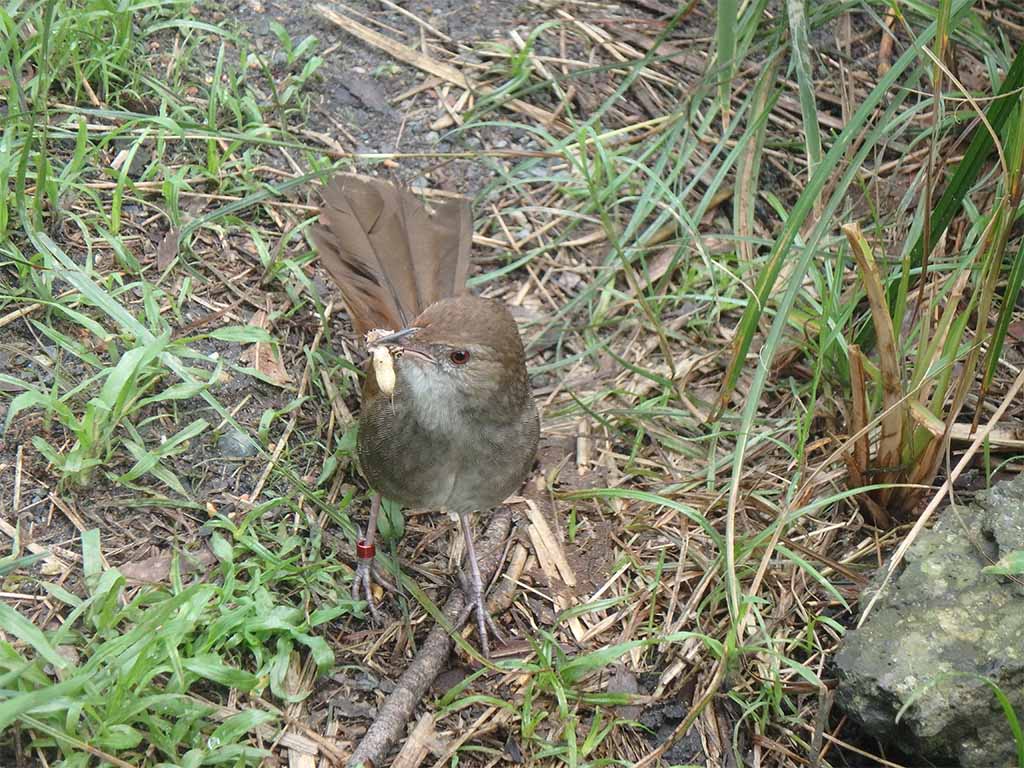 BILBY
CONSERVATION STATUS: Endangered
With only about 400 to 600 Bilbies estimated to be left in the wild in Queensland, these floppy-eared Aussie icons are in desperate need of preservation.
Queensland's Bilby population is the most threatened in the country and Currumbin Wildlife Sanctuary takes part in a national Bilby breeding program in collaboration with Save the Bilby Foundation. Since our breeding program began, it has been successful – we've even welcomed twins on more than one occasion!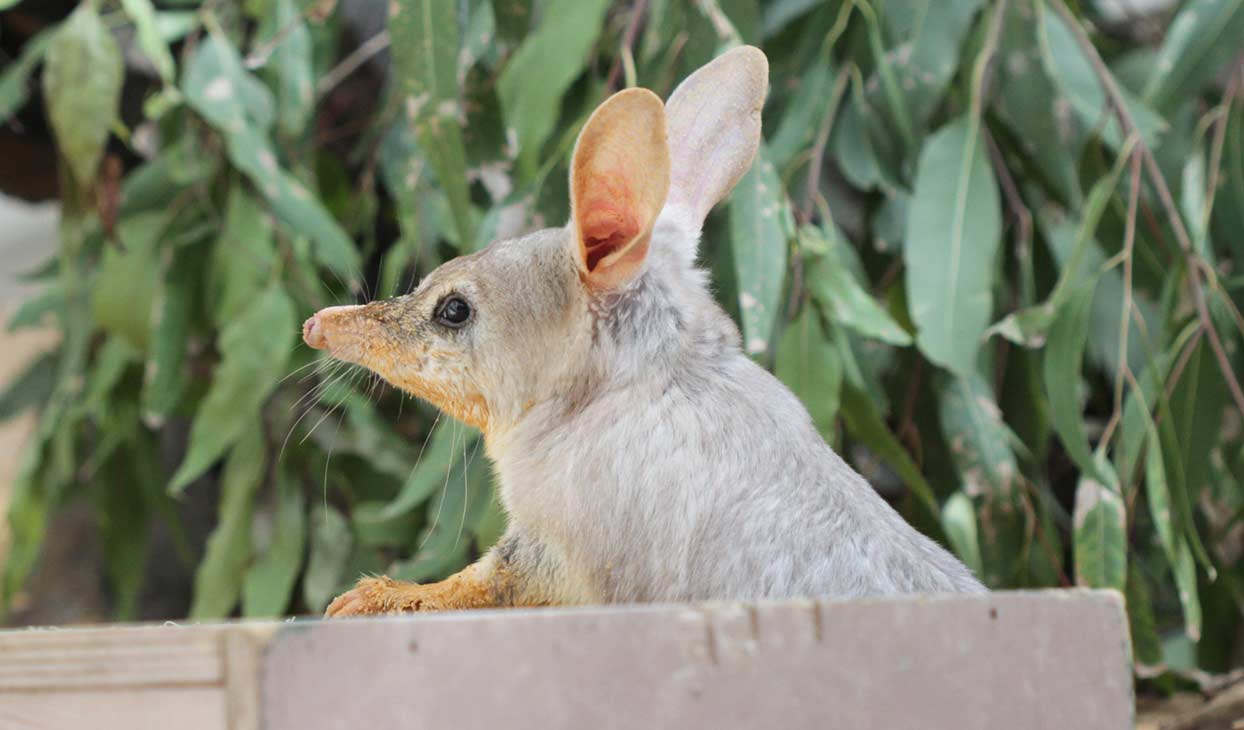 TASMANIAN DEVIL
CONSERVATION STATUS: Endangered
90% of the Tasmanian Devil population has been wiped out by the Devil Facial Tumour Disease. Currumbin Wildlife Sanctuary has been working hard to ensure that there is a healthy population of these unique Aussie animals.
We have been involved with a captive breeding program approved by the Zoo and Aquarium Association since its inception. Our focus is also on educating animal lovers and inspiring them to help save the species from extinction in the wild.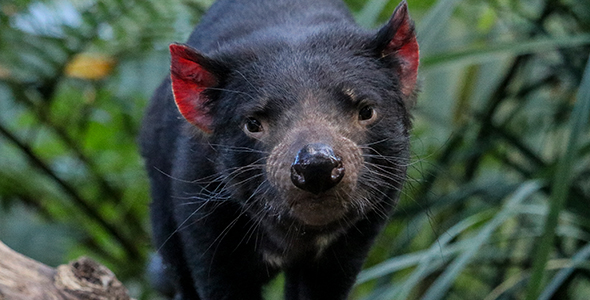 COXEN'S FIG-PARROT
CONSERVATION STATUS: Endangered
It may be one of Australia's most endangered parrots, but while population levels are low, it is by no means extinct. Several confirmed records exist, and credible sightings continue to be reported.
Over the last 20 years, Currumbin Wildlife Sanctuary has worked closely with the Macleay's Fig-parrot to establish breeding and husbandry protocols that will be used if the Coxen's Fig-parrot returns to captivity. Currumbin Wildlife Sanctuary staff have spent time 'in the field' helping to conduct research for this species. This will help us to better understand the habits of this cryptic, fast-flying bird.
BRUSH-TAILED ROCK-WALLABY
CONSERVATION STATUS: Vulnerable
Currumbin Wildlife Sanctuary has a successful record of breeding Brush-tailed Rock-wallabies, even releasing one into the wild!
You can meet our Rock-wallaby family, including parents Piston and Tigereye, who are ambassadors for their wild counterparts, threatened by hunting, introduced predators, habitat loss and competition with other species.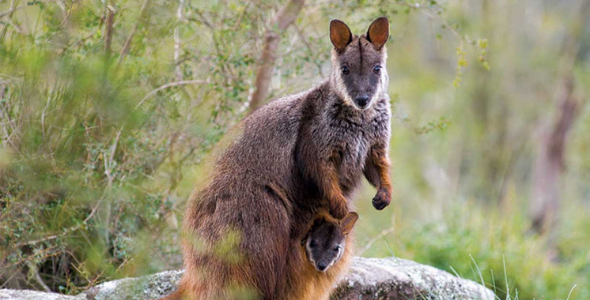 REGENT HONEYEATER
CONSERVATION STATUS: Critically endangered
We had a Regent Honeyeater baby boom last year, with our breeding pair successfully hatching two chicks!
Due to loss of habitat, over-grazing, competition by larger aggressive honeyeaters, small population size as well as nest and egg predation, these birds are close to extinction in the wild. Currumbin Wildlife Sanctuary is dedicated to helping this species by maintaining and enhancing a captive population.
ORANGE-BELLIED PARROT
CONSERVATION STATUS: Critically endangered
Threatened by habitat loss, noxious weeds, cat and fox predation, as well as inbreeding due to small population size, the Orange-bellied Parrot has a lot to overcome.
Currumbin Wildlife Sanctuary is contributing to developments in captive breeding by highlighting the species and educating guests about the plight of this increasingly rare bird.
GLOSSY BLACK-COCKATOO
CONSERVATION STATUS: Vulnerable
Food shortages and the continuing loss of large trees where Glossy Black-Cockatoos make their nests are the biggest challenges this species has to overcome.
But our quirky captive breeding pair Gomez and Morticia are doing a great job of maintaining the population. Glossy Black-Cockatoos lay a single egg every two years, and since 2015, this lovestruck pair have consistently hatched a new arrival. They welcomed their most recent bub, Kirra, in 2020.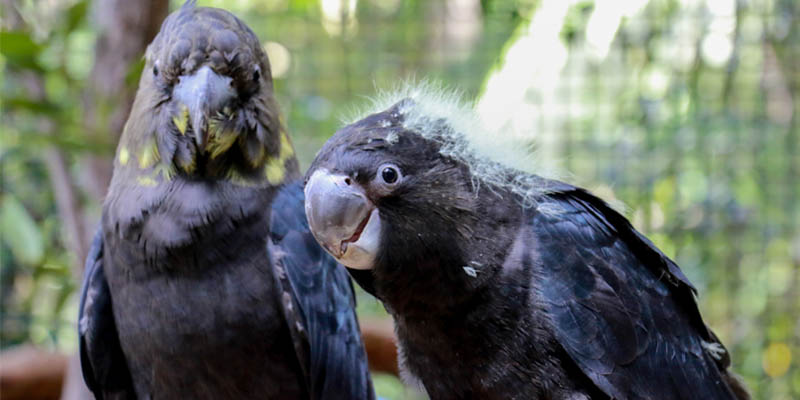 KOALA
CONSERVATION STATUS: Vulnerable
This much-loved species is quickly disappearing from the wild, under threat from habitat destruction, dog attacks and vehicle strikes. Koalas experienced a catastrophic decline due to bushfires in 2020.
At Currumbin Wildlife Sanctuary, we are ensuring a population will be around for future generations to enjoy, welcoming furry new faces every year thanks to our breeding program. Our Gum cutters work tirelessly to ensure these finicky eaters have a rich and varied diet, so they can act as ambassadors to their wild counterparts and highlight the need for their protection.
CASSOWARY
CONSERVATION STATUS: Endangered
Australia's heaviest flightless bird looks like a creature straight out of prehistoric times, but sadly this unique creature is in danger, due to loss and fragmentation of habitat, dog attacks, vehicle strikes and natural catastrophic weather events.
The wild population is found in tropical North Queensland, and our display of Cassowaries calls attention to their plight. We are working hard to have breeding success in the future.
GOODFELLOW'S TREE KANGAROO
CONSERVATION STATUS: Endangered
Hunted for food and traded for cultural reasons in their native home of Papua New Guinea, Goodfellow's Tree Kangaroos are also under threat due to habitat loss.
Currumbin Wildlife Sanctuary's breeding program has been successful, and our resident Tree 'Roos assist in educating the public.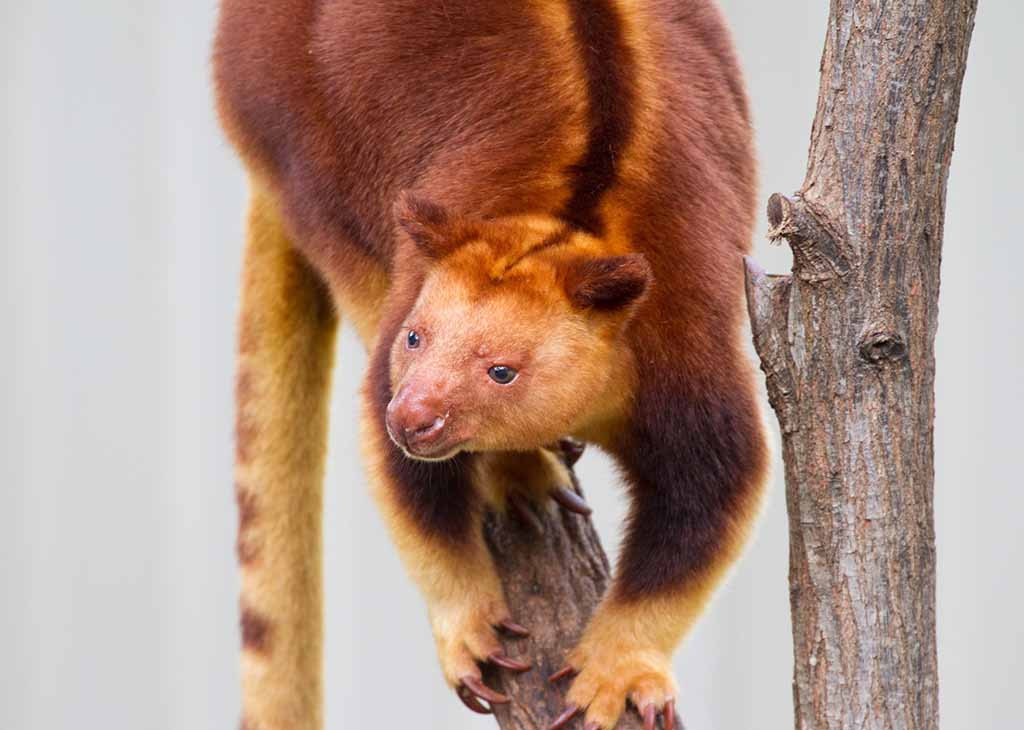 RING-TAILED LEMUR
CONSERVATION STATUS: Critically endangered
Lemurs are the most endangered mammal group in the world, due to loss of habitat and the food and illegal pet trades.
We are helping to ensure the future of the species by maintaining a sustainable and genetically strong captive population.
RED PANDA
CONSERVATION STATUS: Vulnerable
Found in South and Southeast Asia, Red Panda are threatened by fragmented habitat and poaching.
Currumbin Wildlife Sanctuary works as part of a global conservation breeding program to ensure we have a healthy and genetically viable population in the future.
COTTON-TOP TAMARIN
CONSERVATION STATUS: Critically endangered
They are amazingly cute, but sadly this unique species is rapidly declining. It is thought that less than 1,000 Cotton-top tamarins are left in the wild.
Found in Northwest Colombia, they are severely threatened due to loss of habitat, natural disasters, predation and the illegal pet market.
At Currumbin Wildlife Sanctuary, we are helping to highlight the dire plight of this species so guests can appreciate that all animals have a role to play in the environment.
This important preservation continues because of the generosity of the community. You can help to maintain these special animals by donating to our conservation programs.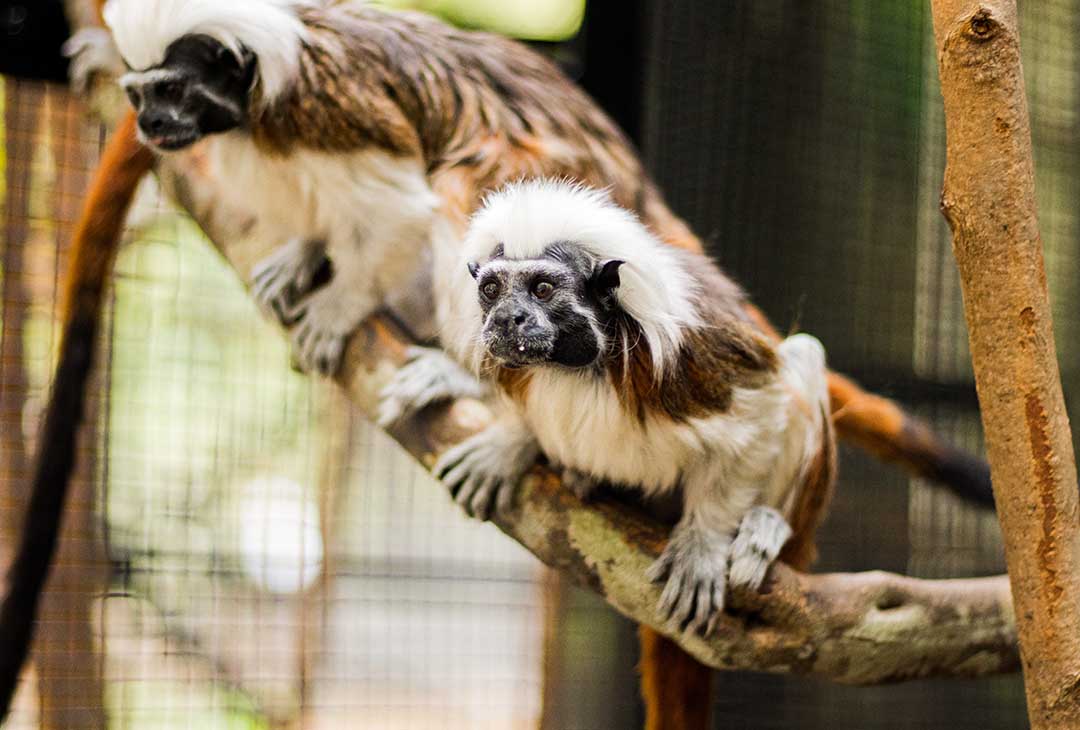 buy tickets today