Published On: 24 Mar 2022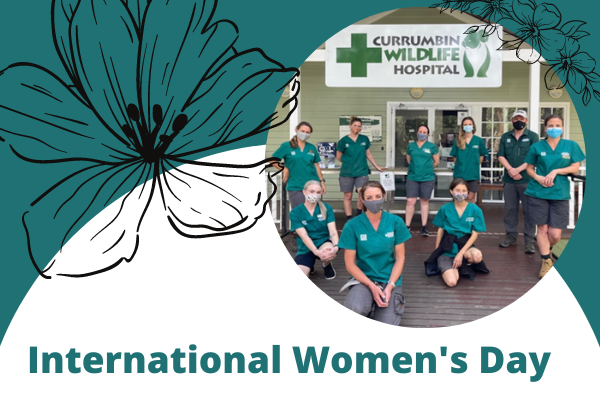 On International Women's Day (March 8), we celebrated our fantastic and largely female veterinary team, support staff, volunteers and wildlife carers.
The women at the Currumbin Wildlife Hospital team are making a vital daily difference for our precious wildlife. Their deep compassion and tireless hard work towards saving native wildlife and conserving their environments is truly inspiring. As one of the busiest wildlife hospitals in the World, the Currumbin Wildlife Hospital would not be what it is today without these incredible women.
The theme for International Women's Day 2022 was #BreakTheBias which is to imagine a gender equal world. Currumbin Wildlife Hospital is truly proud to #BreakTheBias today and every day when it comes to having a gender equitable, diverse and inclusive workplace where difference is valued and celebrated.
The veterinary nurses at the Currumbin Wildlife Hospital are deeply passionate about wildlife conservation and protecting native wildlife biodiversity. Many of the nurses have expressed that the vast majority of animal patient's ill health is due to human activity – whether it be road accidents, fishing debris or deforestation. Therefore, they feel a collective responsibility to restore native wildlife back to good health.
Nurse Mallory Wilson says "after learning about the devastating loss of wildlife all over the world, trying to fix the damage we have caused feels like the worthiest way to spend my life."
Nurse Karla Jarvis' passion for animal welfare has been lifelong she says "I've always wanted to work with animals, ever since I was a little kid. As a teenager, it was important to me to try and look after the animals that didn't have anyone to advocate for them. It's still super important to me to try and preserve our wildlife and the environment in general. I see it as our duty to the planet to try and look after it as best we can. I wish everyone felt the same way."
But they can't do it alone, donate now, to support the Currumbin Wildlife Hospital's mission to treat, rehabilitate and release native wildlife.
Social media
Website/Donations: https://currumbinsanctuary.com.au/wildlife-hospital
Instagram: @currumbinwildlifehospital
Facebook: https://www.facebook.com/currumbinwildlifehospital