Published On: 21 Nov 2017
Currumbin Wildlife Sanctuary:
Our History... Your Memories
Celebrating the much-loved animal conservation park
Currumbin Wildlife Sanctuary has been conserving native wildlife and nurturing the local indigenous heritage for over 70 years. This regional treasure has also been educating and entertaining families and tourists from all across the globe.
So naturally, the animal attraction is at the heart of Gold Coast history. You'd be hard pressed to find a local who hasn't experienced the renowned wild rainbow lorikeet feeding.
But over the decades, Currumbin Wildlife Sanctuary has, more importantly, served as a haven to a myriad of native Australian animals — big, small, flourishing and endangered.


Here's how it all began:
The idea came to fruition as beekeeper and flower grower Dr Alex Griffiths sought out a way to protect his prized blooms. By regularly feeding the lorikeets, he was able to veer their attention away from what was once their nectar and floral quarters, towards something even more tantalising — wombaroo nectar with honey.
In 1947, Griffiths opened up, what was then the Currumbin Bird Sanctuary, to the public as a small-scale lorikeet feeding display. In short order, this wonderful arena of birdlife garnered the attention of both locals and tourists, eventually becoming one of the Gold Coast's best family attractions.
The famed model railway attraction was built in 1964, and by this time, the Sanctuary's diversity of animals had grown immensely.
The park was gifted to the National Trust of Australia (Queensland) in 1976, which turned the site into a not-for-profit social enterprise to directly facilitate the park's rising numbers of native flora and fauna.
In 1989, the original Currumbin Wildlife Hospital was founded, and specialist veterinarians have been caring for sick, injured and orphaned wildlife ever since.

Now and then: a sanctuary's evolution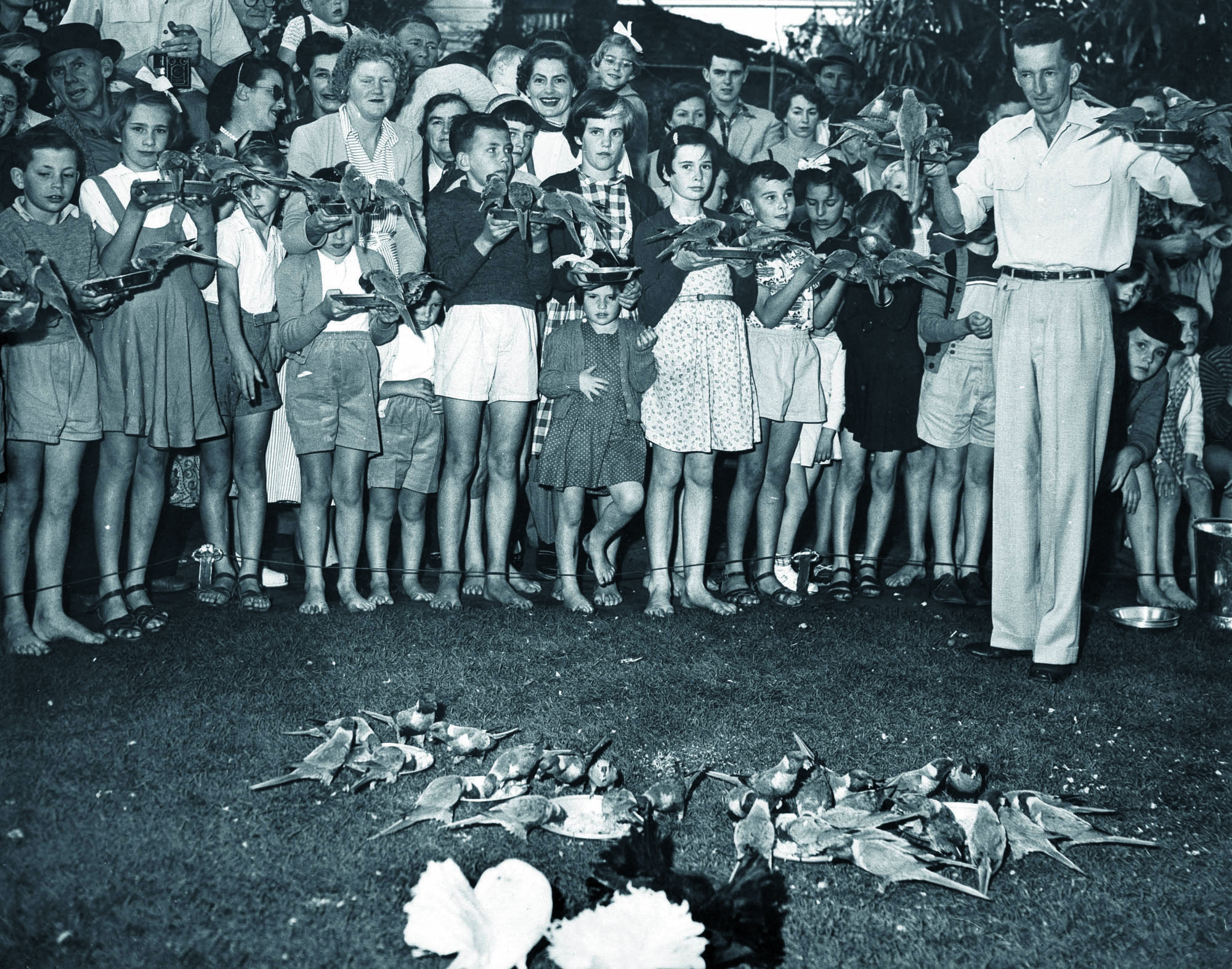 So, where are we now?
Currumbin Wildlife Sanctuary, officially renamed in 1995, is now a heritage-listed zoological garden set across 27 hectares of natural eucalyptus-rich bushland and rainforest. The park was deemed to be of great importance to the evolution of the state's history, and was subsequently added to the Queensland Heritage Register in 2009.
Today, the Sanctuary is home to native mammals, reptiles, birdlife and amphibians as well as some exotic species. Strong support from locals and the emergence of ecotourism has allowed the Sanctuary to thrive since its inception.
The educational public park continues to provide vital breeding and conservation programs, and lorikeets still flock to the arena twice daily to be fed by the equally delighted visitors.
Let's take a walk down memory lane

#TBT The original lorikeet arena. Taken in 1965 when Janine visited the sanctuary with her grandfather. #currumbinsanctuary

So, what was once a deterrent to stop cheeky local lorikeets from destroying Griffith's flowers, is now a spectacular feeding arena where millions of locals and tourists have flocked to witness these stunning rainbow birds in flight.
Fast forward over 70 years, and entry to the arena is still free and feeding trays are provided with a gold coin donation!

#TBT This awesome photo was taken on an annual family holiday to the Gold Coast about 50 years ago! Linda would have been about 5 years old. #currumbinsanctuary
Now, the Sanctuary is a caricature of all that is Australian, and continues to educate and entertain visitors like Linda with its unique close encounters with the native animals. Not only does its natural landscape make this iconic attraction so special, but also the park's ingenuity in preserving Australia's rich indigenous culture and history.

#TBT Check out this amazing throwback, who else remembers feeding our Lorikeets when they were kids? #currumbinsanctuary

At Currumbin Wildlife Sanctuary, family holiday fun has come a long way since this family's picture was taken. As the park's collection of animals began to grow, it inevitably became one of Queensland's best value attractions for kids and adults alike.
Today, there are even more exciting interactive displays on the Sanctuary's horizon, so be sure to watch this space.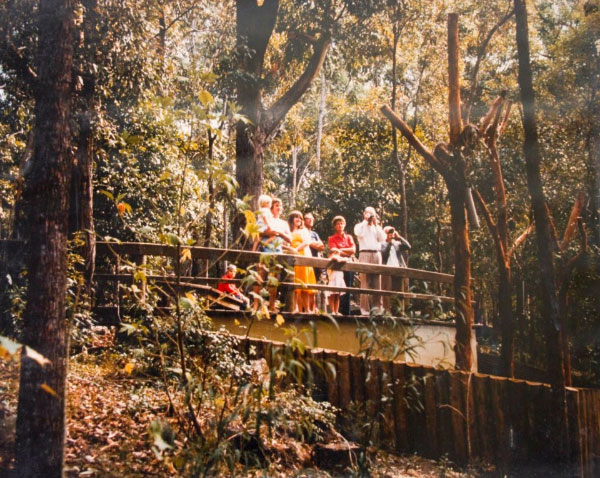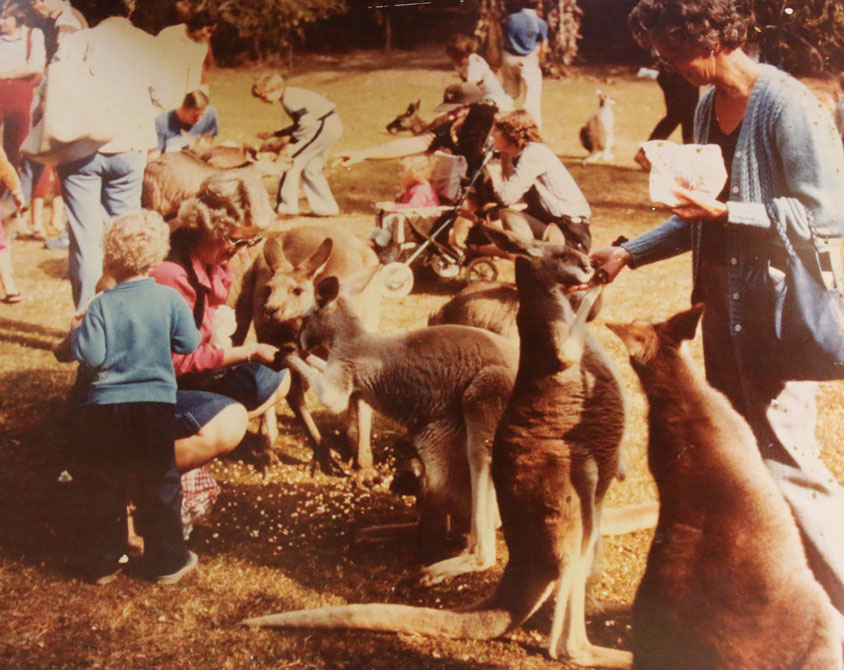 #TBT The photographs were brought in by a wonderful member of the public who found them in storage. #currumbinsanctuary
Holidaymakers can experience all the animals up close from great new heights atop the TreeTop Challenge high ropes course, or by cruising along on the Segway Safari tour.
And after 50 years on the tracks, the original railway and its restored steam train is still a popular means of navigating the park's stunning natural surrounds.
Contemporary depictions of the Sanctuary's time-honoured kangaroo paddock are reanimated with kangaroo selfies, reminding us of the scope of its heritage. But these days, visitors continue to top off their wild day out by cuddling up to a koala and leaving with the sweetest souvenir photos. Plenty has changed over the years, but the lorikeet feeding arena still stands as the Sanctuary's favourite attraction.

Don't forget to tag us in your #TBT memories with #currumbinsanctuary — or send your photos through with a memory description for us to share!