12 Christmas Gift Ideas for Animal Lovers
Meaningful Gifts & Experiences for the Wild at Heart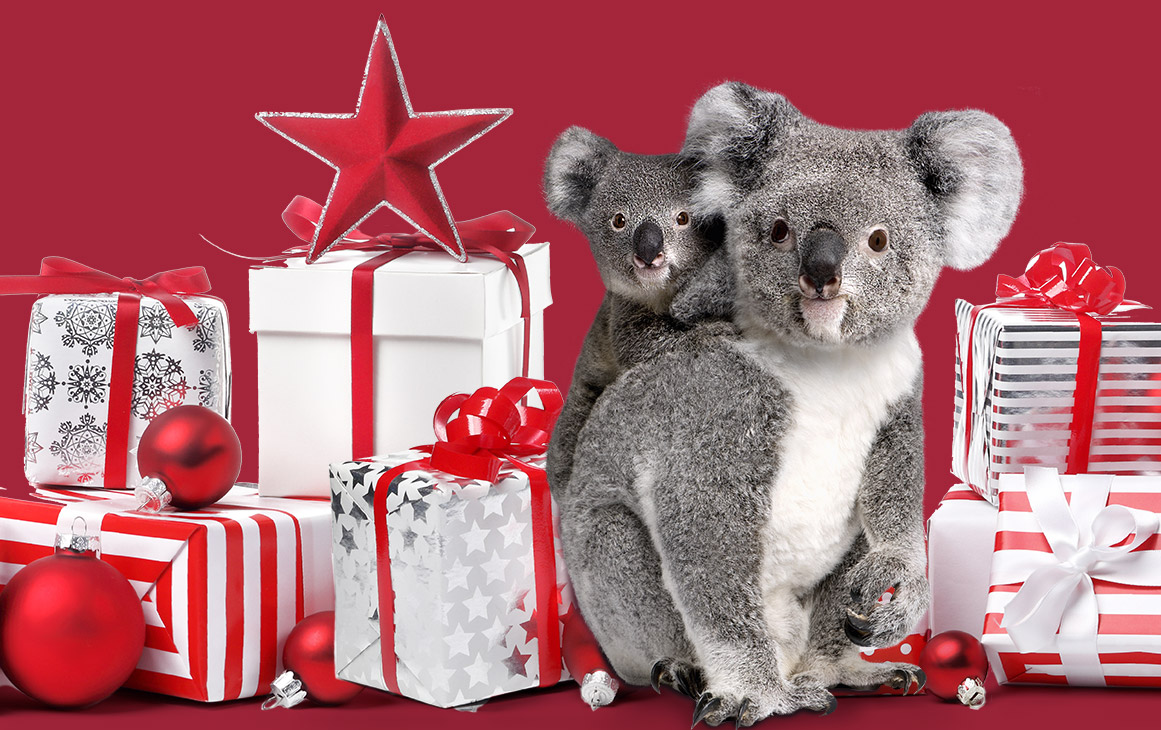 The festive season is already upon us, but if you're still chasing your tail for the perfect gift, why not wrap up something memorable for your special someones? An experience is the coolest way to give to your family and friends this Christmas — and our furry friends at the Sanctuary are the ultimate warm and fuzzy holiday companions.
So fill those stockings up with love this Christmas! Currumbin Wildlife Sanctuary has you covered with meaningful ways to show your animal-adoring loved ones you care.
Kids, parents and nature enthusiasts from all walks of life will thoroughly enjoy these 12 wildly different gifts and experiences.
'Tis the season to show some more thought. So, instead of purchasing expensive material goods (because let's face it, they'll only end up gathering dust), give your loved ones the gift of a cuddly experience they'll remember fur-ever!
On the first day of Christmas at the Sanctuary: a koala in a gumtree. Gift your loved one an up-close and personal encounter with arguably our most iconic national animal — a cute 'n' cuddly tree-hugger. A great opportunity for anyone wanting to meet and learn to help protect a much-loved native species that's threatened in Queensland...

2. Koala Photo
...and you can even have their memory captured by one of our professional photographers! The ultimate Christmas package for any animal lover!
Now, we all have that one friend who's barking mad for canines. Gift your friend or loved one the chance to meet Australia's native dog, the dingo. Instead of barking, these wild dogs have a yodel-like howl. And you'll discover more wild facts about dingoes on your walk. What an awesome way to spend the holidays with the kids?!
You can show your family how much you love them this Christmas by letting them snuggle up to a warm and fuzzy mountain brushtail possum. Meeting Meccano, our Sanctuary's sweet Aussie marsupial, is the best way to educate your kids and loved ones about the importance of possum conservation. They'll also take home a happy snap of their new found furry friend — the sweetest gift!
Do you know someone that's a bit of a daredevil? These living dinosaurs are even more impressive when you meet them face-to-face. So snap up a monster of a gift for your reptile-relishing family members and friends with a voucher for a mighty saltwater croc feeding encounter. The only way to impress those budding zoologists this Christmas.
If your loved one is curious about how a baby echidna gets its spikes, then look no further than this truly unique encounter with our perpetually prickly Aussie icon. Echidnas in the wild are quite shy, but our Sanctuary's little sticky beaks might even decide to crawl over you or feed straight from your hand. A wonderfully fascinating gift sure to drive any animal lover wild!
And for an unforgettable experience the whole family can enjoy, purchase an exclusive behind-the-scenes tour of the park in all its glory. Learn about our efforts to save Australia's precious endangered wildlife, and meet and greet our famous feathered and furry friends. Because experiences are always better than "things" — and family is the most important part of the holidays.
For all things wild there's the gift of an awe-inspiring avian training experience. Bird enthusiasts everywhere are flocking to this rare and enchanting encounter with our feathery flyers. So shake your tail feather this festive season and let your loved ones experience the beauty our native birds have to offer within incredibly close quarters.
What better way to celebrate the Christmas holidays than with a family journey through time as you discover the rich 70-year-old history within our 27 hectares of coastal rainforest?! Share stories with the kids about days spent at the Sanctuary as a youth — and relax as you greet our native friends whilst navigating the beautiful park on our magnetic self-balancing segways.
Not wild enough for you? Adventure lovers rejoice! This gift is the perfect way to set a holiday challenge for you and your friends and family. The TreeTop Challenge is a surefire way to test your balance and fears — but you'll also enjoy the ultimate view of our adorable tree kangaroos and glide above our saltwater crocs on a flying fox. So encourage your inner monkey madness with a fun-filled day atop the Sanctuary trees to get your adrenalin pumping.
Still having trouble choosing a gift? Alas, the solution to the person who has everything. It's a gift that truly keeps on giving (all year round to be precise). Family, friends and colleagues can enjoy visiting all of the above animals and more with an Annual National Trust of Australia (Queensland) Membership. They'll enjoy unlimited access to the Sanctuary for an entire year, as well as discounts and other special offers.
Why not give compassionately this Christmas? For a unique and thoughtful holiday gesture, you can give a gift that gives twice. Our "Adopt an Animal" program is integral to our rehabilitation efforts here at Currumbin Wildlife Sanctuary.
You can assist in caring for, feeding and releasing a native animal by purchasing a symbolic adoption of a bilby, echidna, wombat or koala for your loved one rather than a traditional Christmas gift. Your family member or friend will receive regular updates as well as a certificate of adoption. Animal lovers and endangered species alike will be forever grateful for your donation.

So — in the spirit of giving — spread the true meaning of Christmas this year with these wildly different, meaningful alternatives to your average gift.