Published On: 17 Dec 2018
summer plans sorted: WHAT'S ON THESE SCHOOL HOLIDAYS AT CURRUMBIN WILDLIFE SANCTUARY
The summer school holidays have arrived in spectacular style, and if you're on the look out for a source of feel-good family fun that will keep the kids occupied but won't hurt the hip pocket, we've got just the ticket…
These holidays, we're putting families first, with a whole lotta' action, adventure and epic activities on offer – from free-flying birds to local beats and delicious street eats in our backyard, check out what's on this summer at Currumbin Wildlife Sanctuary...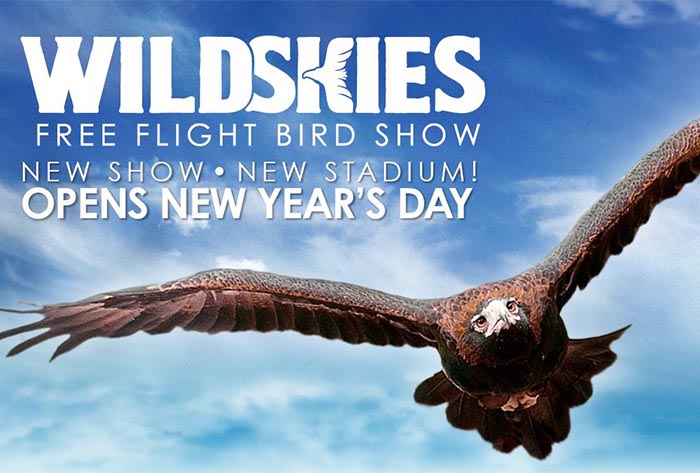 WildSkies Free Flight Bird Show

Kicking off summer 2019 with a bang, Currumbin Wildlife Sanctuary will unveil a brand new family attraction on New Year's Day that is set to leave audiences in awe as they are introduced to the majestic and powerful world of natural flight!
Showcased in a new purpose-built stadium within the Sanctuary, WildSkies will have nature and wildlife lovers marveling at the beauty, strength and wing-span of some of the world's most spectacular species of bird, including the wedge-tailed eagle, the native Australian pelican, exotic parrots and owls, as they free-fly high above the crowd.
Spectators will be spellbound as they witness the mighty birds of prey dive and swoop at incredible speeds, soar above the stadium, and reach top-level decibels with their distinctive vocal calls.
The excitement doesn't stop after the show is over either! If you're brave enough to conquer your ornithophobia (AKA – fear of our feathered friends), stick around to have your picture taken with one of the stars of the show.
WildSkies will be on display daily from 1 January at 11:20am and 2:30pm, and is included as part of General Admission tickets.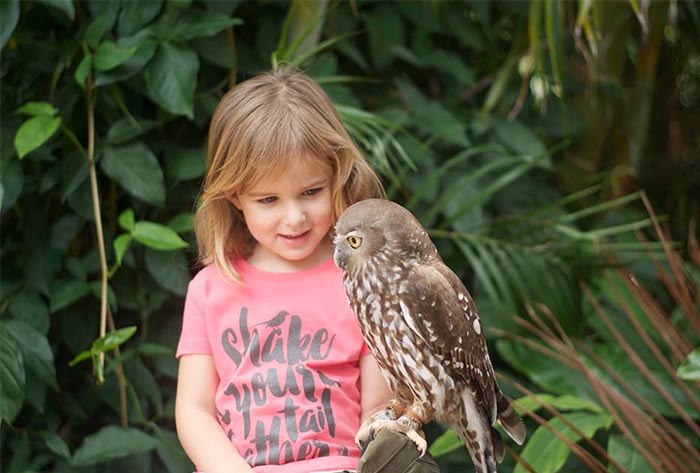 Wild Adventures School Holidays Program

Forget the blow-up pool in the backyard this summer – give the kids something they'll really love these school holidays with Currumbin Wildlife Sanctuary's Wild Adventures School Holidays Program!
From enrichment feeding lessons to conservation sessions and behind-the-scenes access to up-close and personal encounters, trust us when we say your youngsters will be over the moon with this unique wildlife experience, featuring some of the Gold Coast's most curious, cuddly and captivating creatures. And with five themed Wild Adventures to choose from, they might just ask to come back again… and again.
• Trainer for a Day – 7 & 14 January
• Paws and Claws – 8 & 15 January
• Keeper for a Day – 9 & 16 January
• Slimy and Scaly – 10 & 17 January
• Vet for a Day – 11 & 18 January
Each Wild Adventures day starts at 8:30am and finishes at 3:30pm. Tickets are $55 per child; limited spaces available; age restrictions and T&C's apply.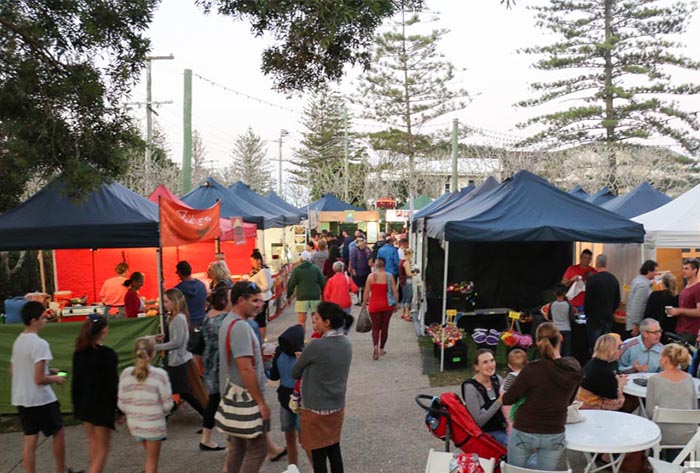 The Sanctuary Markets

After a full-on day of koala cuddles, kangaroo kisses and thrilling Wild Skies adventures, you're going to have worked up quite the appetite. Well, foodies you're in for a treat… every Friday night from 4pm – 9pm on the Village Green (corner of Tomewin Street & Teemangum Street), The Sanctuary Markets roll into town – bringing local beats, tasty eats and all-round good vibes to our neck of the woods.
Since its launch in 2014, The Sanctuary Markets have come to be a firm favourite with locals and visitors to the Gold Coast alike, with over 20 food trucks lining the street and serving up mouthwatering cuisine from every corner of the globe, giving a whole new meaning to 'feeding time' at Currumbin!
With tummies full, live tunes playing and dozens of arts and craft stalls to peruse, this charming community market presents as the perfect way to round out a memorable day at the Sanctuary. There's also a fully-licensed bar onsite that serves up local brews and wine, so you can kick-back with a beverage and bite in-hand and enjoy a balmy summer's night in true Gold Coast style.
Entry and car-parking is free, and any proceeds Currumbin Wildlife Sanctuary generates from the markets goes straight back to support the animals – so be sure to swing by this summer!

buy tickets today