Top shows to see during your visit to Currumbin | Currumbin Wildlife Sanctuary
If you're a wildlife lover, you're probably already up to speed with the awesome array of animal encounters and experiences on offer here at Currumbin Wildlife Sanctuary, but did you know we also have an impressive line up of shows to choose from, too? From indigenous dancing to free-flight bird shows, heart-pumping salt-water croc feeding and reptile displays, we've rounded up some of our favourite daily shows to help plan your day out at the Sanctuary – and trust us when we say, these are worth adding to your Currumbin Wildlife Sanctuary bucket list.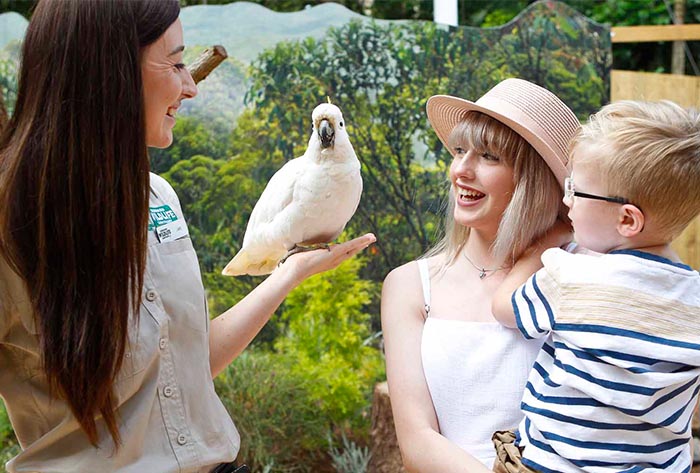 1. WildSkies Free Flight Bird Show
The newest attraction to land at Currumbin Wildlife Sanctuary, witness a spectacle of colour, speed and sound as part of the brand new WildSkies Free Flight Bird Show. Featuring 18 exotic and native bird species – including the iconic Aussie pelican, wide-eyed owls, vibrantly coloured parrots, and the Wedge-tailed eagle – the 20-minute presentation will take place in a shaded purpose-built stadium within the Sanctuary, where visitors will relish the opportunity to get up close and personal with the stars of the show (AKA 45 resident birds) as they show off their remarkable flying skills. Underscored by a unique soundtrack, the show will also aim to highlight the Sanctuary's conservation efforts and educate audiences about these unique species. And don't forget to stick around until the end of show, when spectators can have their photo taken with a star of the show. The show opens New Year's Day 2019.
Daily shows at 11:45am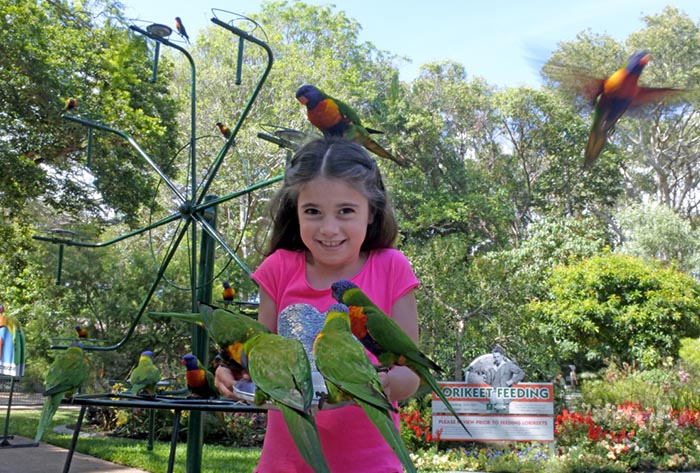 2. Lorikeet Feeding

Arguably one of the most beautiful of all the bird species, rainbow lorikeets are synonymous with Currumbin Wildlife Sanctuary, making their debut here 70 years ago when the park first opened. And they still like to eat and drink at the same place all these years later! The birds are fearless and will eat right from your hands as part of daily lorikeet feeding – they may also take a break on your head or shoulders, so expect to make a few new friends while you're here! There's no entry required into the Sanctuary to visit these gorgeous birds; so pop in with the kids and take advantage of this free, family-friendly experience.
Daily shows at 8:00am and 4:00pm
3. Pelican and eel show

What do pelicans and eels have in common, you ask? They are creatures of habit and both love to visit the Sanctuary at the same time everyday for a feed! This quintessentially Aussie animal experience showcases wild pelicans and eels from the local 'hood enjoying a feeding frenzy as they come to the edges of the Sanctuary at their routine mealtime. Pretty cheeky, huh?
Daily show at 10:30am
4. BLINKY BILL'S STUDIO ADVENTURE

Anyone who grew up in the 90s needs no introduction to Blinky Bill… and chances are, your little ones will know who this beloved marsupial is too, having stood the test of time and continuing to grace TV screens across the country. One of Currumbin's favourite family attractions is Blinky Bill's Studio Adventure, where adults and kids of all ages can enjoy a behind-the-scenes look at Blinky Bill and his Currumbin Wildlife Sanctuary friends as they sing, dance and rehearse film scenes for their next television episode. Stick around and snap a selfie with this cute-as koala character after the show.
Not currently showing
5. BIG FANG THEORY

Currumbin Wildlife Sanctuary presents visitors with an opportunity to meet some of Australia's deadliest reptiles in an up close and personal experience. The Sanctuary is home to 38 species of slimy and, if we're honest, a little scary, reptile friends, so why not conquer your fears and get to know a little more about these native Australian creatures in one of our popular shows, the Big Fang Theory. Photos are also available at the conclusion of the show so don't forget your phone… because, if you didn't take a pic for Instagram, did it even really happen?
Daily show at 11:00am
6. AUSTRALIANA SHOW

Ever wanted to know the process behind sheep shearing? Currumbin Wildlife Sanctuary's Resident 'Gun Shearer' shows audiences how it's done in our daily Australiana Show, safely removing wool from the resident Marino wooly sheep in just a few minutes. This is a true-blue Australian outback experience and is equally popular with locals as it is with international guests. After the show meet our shearer and pat his friendly working dog.
Not currently showing

7. CROCODILE KEEPER TALK
Coming face to face with a five-metre crocodile is not something you get to do every day (but has probably been on your bucket list since the release of Crocodile Dundee!). Well folks, now is your chance. Learn about these ancient creatures and crash a date with Boss Hogg, the biggest salt-water crocodile at the Sanctuary, plus a throng of fresh-water crocodiles.
Daily show at 1.30pm
8. ABORIGINAL DANCE SHOW

The Gold Coast has a rich Indigenous heritage, and Currumbin Wildlife Sanctuary and Jellurgal Aboriginal Cultural Centre have teamed up to celebrate and shine a light on our local Aboriginal culture in one captivating stage performance set against a sprawling hinterland backdrop. Here, you'll experience and learn the Yugambeh language, be inspired through native dance, and be spellbound by historical dreamtime stories, as the Yugambeh Aboriginal Dancers showcase the pulsating energy of one of Earth's oldest living civilizations.
Daily show at 3:30pm

buy tickets today