Meeting the storyteller
Written by Paul Guerin, National Trust of Australia (Queensland)'s General Manager, Education, Creative and Community Engagement.
Luther Cora is an Indigenous cultural performer at Currumbin Wildlife Sanctuary, where he and his family seek to educate and inform visitors about Australia's vibrant living culture.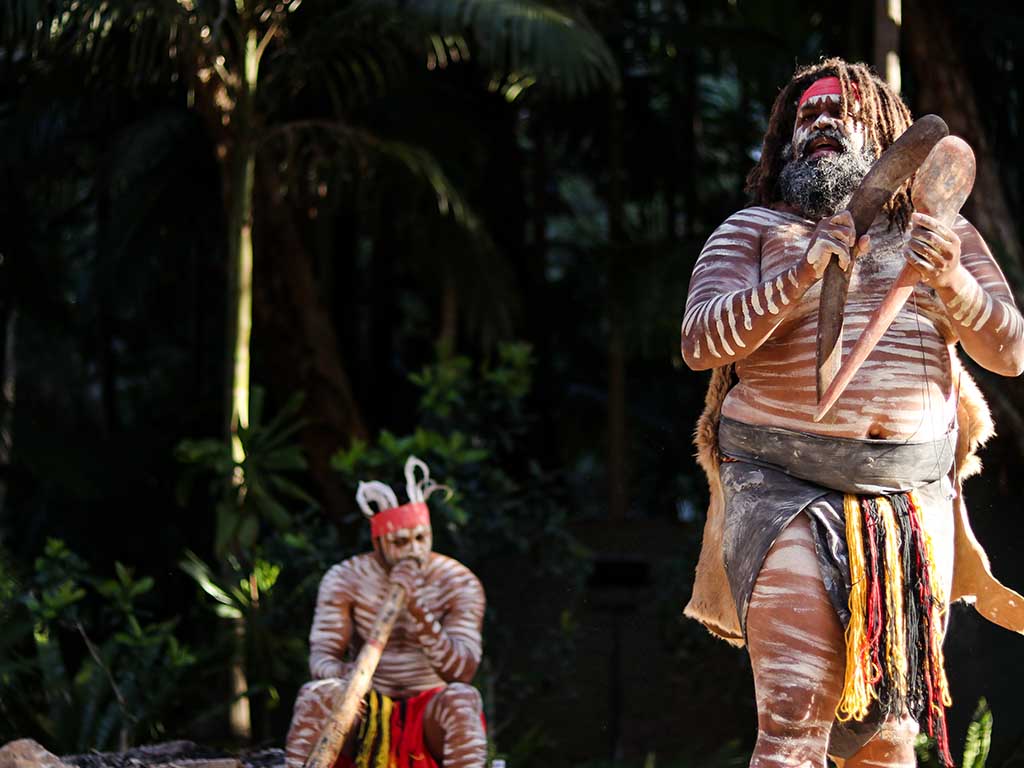 Luther Cora with Gabriel Wilie on didjeridu
I am sitting on the deck of the Sanctuary Café at the front entrance to the park waiting to meet with Luther Cora.
Cora is having his photo taken with guests, after presenting the daily Aboriginal Culture and Dance Show that his family has been performing for more than 20 years now at Currumbin Wildlife Sanctuary.

Cora is a proud Indigenous man from the Yugambeh Language Group on the Gold Coast. Most recently Cora and his family were featured in the 2018 Commonwealth Games opening ceremony.

He also directed the performance piece 'Gathering' as part of the Commonwealth Games Festival 2018. An accomplished artist, he has designed many football code jerseys and boots for the Indigenous rounds and his photographic and digital art is often on display. He has also won NAIDOC art awards. As Cora arrives, I am warmed by his big welcoming smile, his impressive dreadlocks and the wisdom of his deep set eyes.

It is no wonder that Cora is regarded as the face of Indigenous culture for the greater Gold Coast region.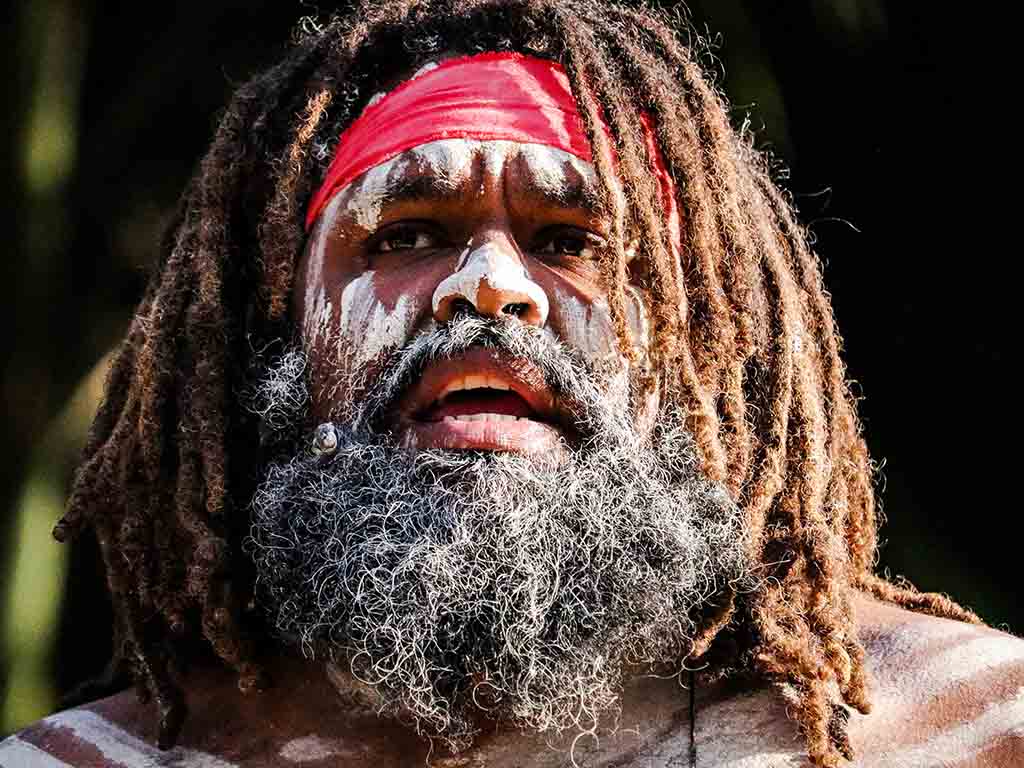 Proud Indigenous man, Luther Cora of the Yugambeh Language Group on the Gold Coast
When you were growing up, who were the main influencers who taught you your culture and gave you the passion to share and teach others?
I grew up around the river and saltwater, fishing, swimming, crabbing and hunting. I had a lot of great influencers and teachers within my family: my uncles, parents and grandparents were always telling stories from the local Gold Coast and Tweed Heads area. When I was a youngster, my family moved north and it was there that I started to learn dance, culture and song.

I had teachers from far north Queensland and the Kuuku Yalanji people and in particular the Bradys — Uncle William, Uncle Mathew — the Doolans from Townsville and the Walker brothers from Nunukle of North Stradbroke Island. Learning dance and song was the start of my journey, and it was the one thing that changed my life around and gave me discipline. When you are learning dance you are learning the culture, and a big part of the culture is respect, and so we learned to respect all our elders, the older people who had the knowledge. To this day I am still learning.
What were the main issues that you experienced while working in rural Aboriginal communities?
I lived in Emerald in central Queensland for about nine years, working with youth in schools and the community and I found the reason behind most issues was the loss of identity. I think this is true for people around the world: if you don't have an identity you are more or less lost.

We have a lot of social and mental issues today, and I believe these stem from not knowing who you are, where you are from, who your family or mob is and feeling like you don't belong. People are lost in themselves and turn to other things, such as drug and alcohol abuse.
What do you feel is the main impact of colonisation on your ancestors and culture?
There was a time in history when we were not allowed to practise song and dance, and there was a loss of language and culture. Language holds the keys to culture, and if you lose the language you start to lose your identity. Identity and culture are all locked up in language.
Colonisers all around the world, not just in Australia, try to take language away from the indigenous people, along with other cultural practices, and it impacts people's identity and belonging. I know it has had a great impact on the Gold Coast, and there is no older person left today that speaks fluent Yugambeh dialect anymore. We are relearning our language now using books from early settlers from this area as, luckily, they recorded a lot of the language.
It's ironic that we have to learn from those who prevented us from practising our culture in the first place.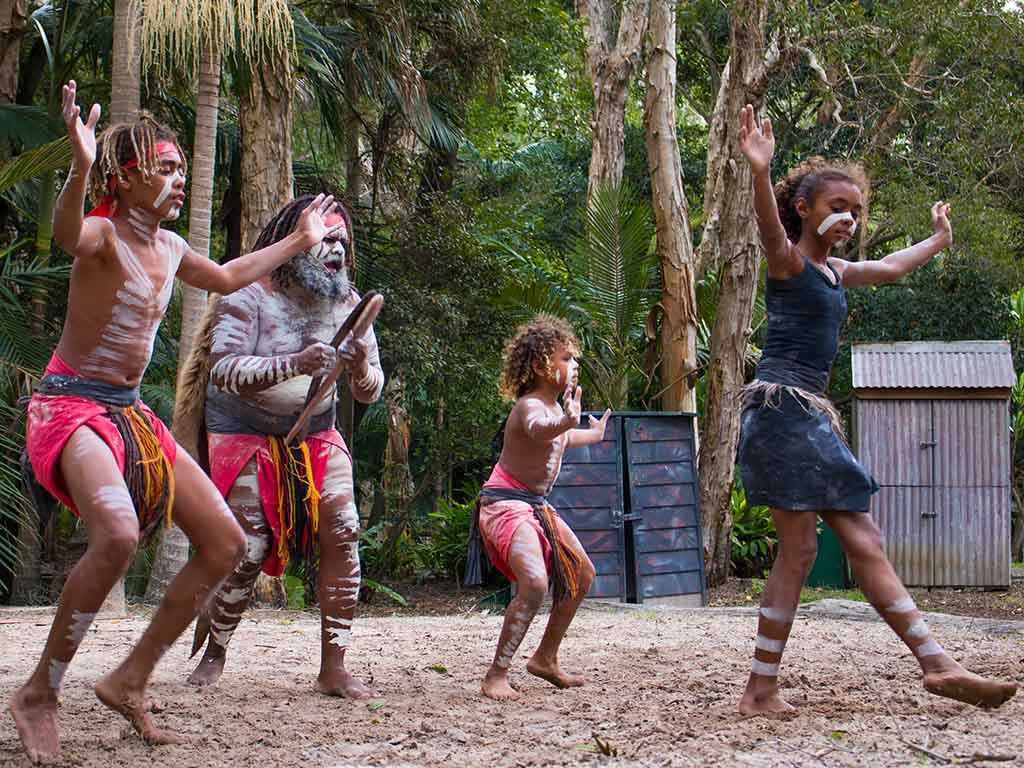 Luther Cora performs with his family at the daily 3.30pm Aboriginal Culture Show at Currumbin Wildlife Sanctuay
What is your greatest personal achievement to date?
My greatest achievement is my family. I've been married to my wife for 14 years and we have five beautiful children. My children practise and learn song and dance, they are very respectful and well behaved, and I think this all comes through culture. The one thing I always teach them is respect: respecting your parents, other people, laws and authority, everything around us and the land.
I instil into my children who they are and how they belong by taking them out on country fishing and hunting, showing them different parts of the area that are special to local indigenous people and giving them the opportunity to learn the culture. I've always loved to dance since I was a young kid, and it's wonderful to see my children following in my footsteps. They love it too.
What does reconciliation mean to you and what does it look like?
We are all Australians — black, white, no matter what colour you are — and we need to come together. There is a lot of hurt and frustration between groups and I feel that a lot of the issue stems from the true history not being taught in schools. The Indigenous culture of Australia is the oldest continuing living culture in the world, and science has now proved that it is at least 65 million years old.

People travel overseas to find exotic cultures, to visit the pyramids of Egypt that are 2000 years old, when we have the most beautiful, rich culture right here in our backyard. The Aboriginal culture, the histories, the stories: they belong to this land and if you are Australian they belong to you too.

Through education and respect all Australian's can embrace the culture and with this comes reconciliation.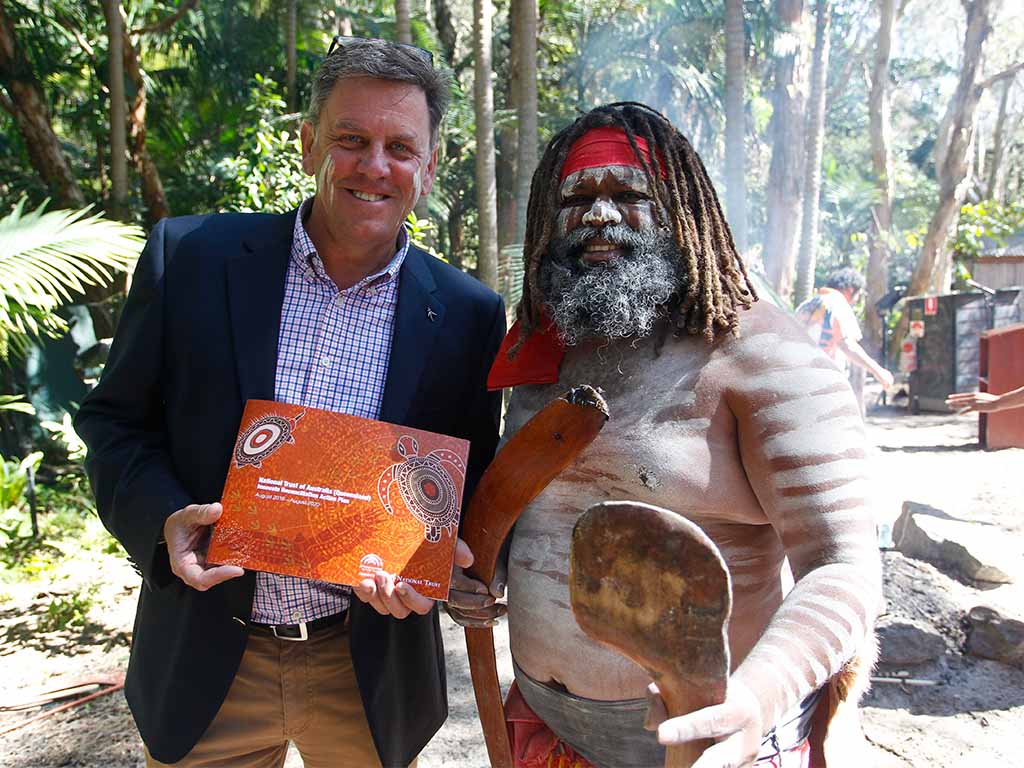 National Trust of Australia (Queensland) CEO Jonathan Fisher and Luther Cora at National Trust of Australia (Queensland) Reconciliation Action Plan Launch
How do we bridge the gap between cultures?
Education is the key. Making people aware of Indigenous culture and Australia's history, and making sure it is taught correctly and inclusively. Other countries teach their history, including all of the good and all of the bad and that is how we will move forward in this country as we learn from the past and don't make the same mistakes again.
As a father of five children, what are the most important lessons that you want to instil in your children?
I want to instil in my children to be proud of who they are: strong Indigenous people with a connection to this land and a rich, beautiful culture; to be respectful people in the community; and that they can achieve anything that anyone else can achieve. I want them to know that the colour of their skin, their heritage and culture is not going to stop them from achieving anything; it is, in fact, an advantage. Aim high, be the best that you can be, know who you are and respect yourself and others.
Luther Cora and his family perform the Aboriginal Culture and Dance Show daily at 3.30pm at Currumbin Wildlife Sanctuary.
buy tickets today