How To Do Currumbin Wildlife Sanctuary In A Single Day
The action-packed schedule that'll stop you from missing out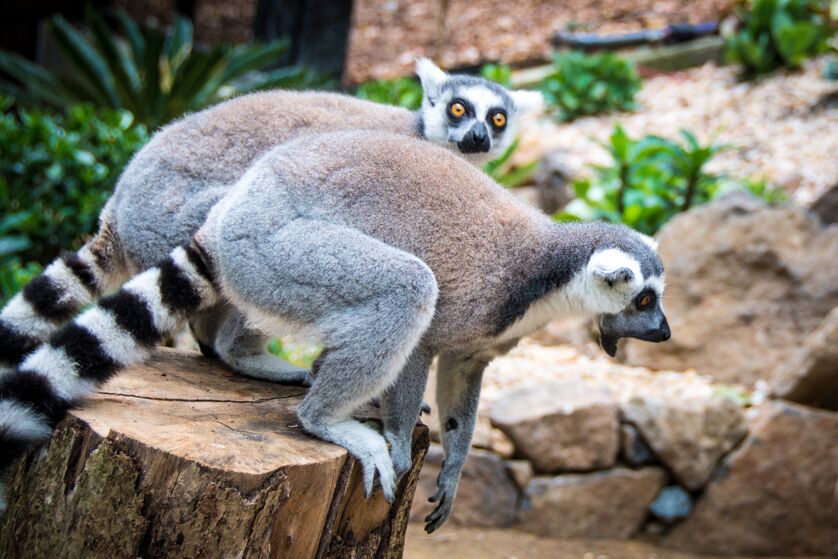 Time isn't always on our side. In a perfect world, we'd spend a great deal more than a single day exploring all the Sanctuary has to offer. Visitors are spoiled for choice with the park's exhilarating shows, behind-the-scenes tours, photo opportunities, up-close and personal encounters – not to mention seeing our furry, scaly and feathered friends in their natural habitat.
While many of the locals have spent their childhoods discovering new and exciting things to do and see (armed with their annual passes), sometimes we're faced with challenges that require us to make the most of the time we have.
But all you diehard wildlife enthusiasts should take heart – because we've created the ultimate itinerary for doing it all in a day:
7:50am: Arrive at the Sanctuary
We all know the early bird gets the worm! If you're smart, you'll choose to beat the crowds and get in early (doors open at 8:00am). Local knowledge is that if you arrive well before the 10am rush, you'll almost certainly secure the best parking spot.
*Hot tip #1: Don't forget your park map and have some gold coins handy for a plate of nectar with honey for the loris, and a cup of pellets for the 'roos.
8:00am: Brekky at the Sanctuary Café
Parents need not be reminded of their morning coffee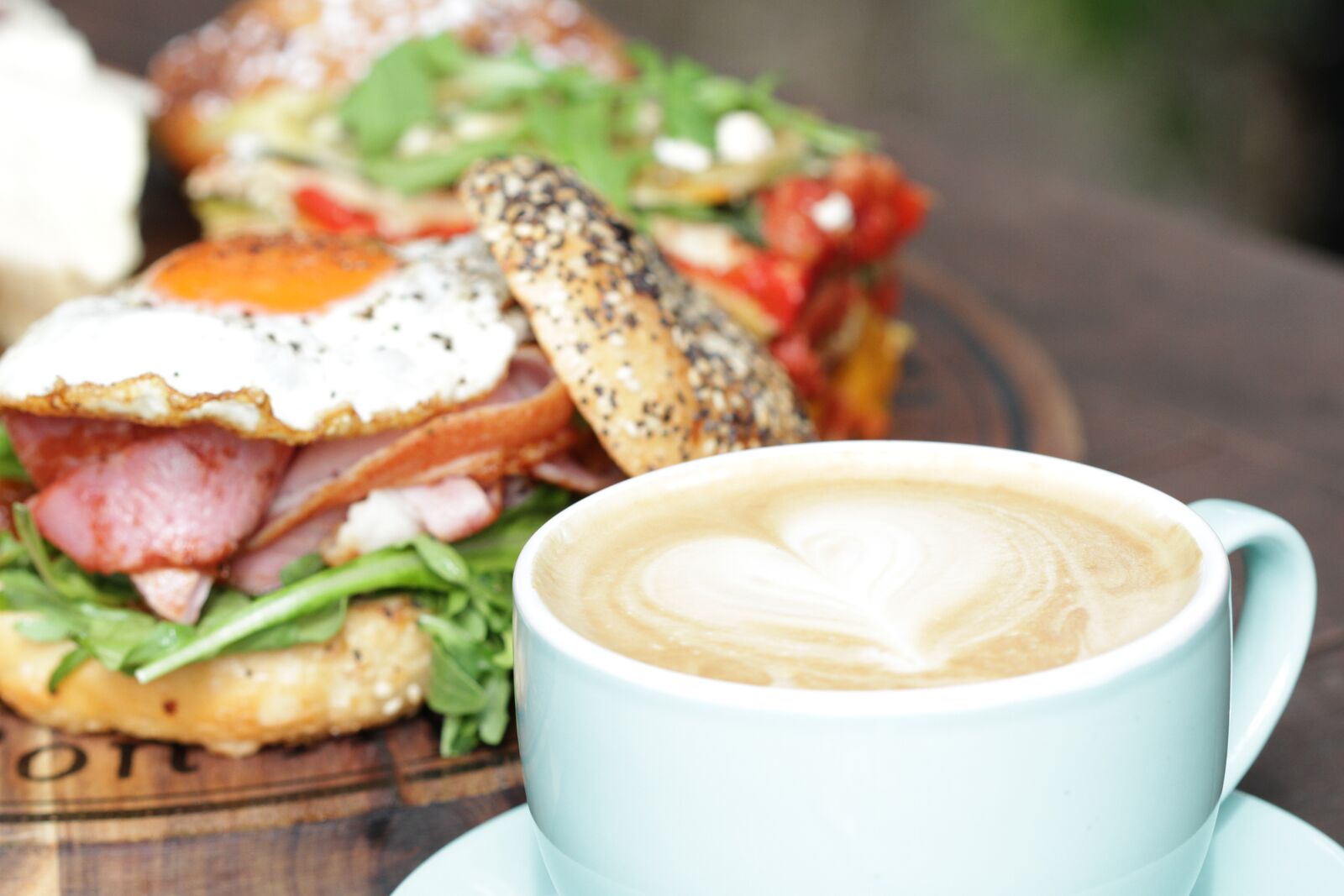 The keen explorer should dine with the local wildlife and get their caffeine fix early on before taking on this fast-paced itinerary. There's something for everyone on this menu, with things like bacon and egg rolls, gluten-free options, and plenty of grab 'n' go items for the impatient ones.

*Hot tip #2: If you decide to eat at home, you can fill the bellies of our gorgeous rainbow lorikeets at our 8:00am feeding time! Otherwise, you can catch the afternoon session at the end of the day.
Park map in hand and you're ready to go!
8:30am: Cuddle a Koala
Your visit isn't complete without this experience
An up-close and personal encounter with a koala is synonymous with the Aussie tour. But did you know Currumbin Wildlife Sanctuary is one of the few places in Australia that allow visitors the privilege? Having your picture taken with one of these cuddly natives is an opportunity of a lifetime.
9:00am: Feed the Kangaroos
Because nothing says 'straya like a kangaroo picture
Grab a cup of 'roo food, and a camera before stepping out into the open kangaroo paddock for some quality time with your Aussie mates. Hand feed and gently touch these incredible animals, and don't forget to capture your memory!
Name a more iconic duo. I'll wait...
Don't be fooled: This show is as underrated and unique as its unlikely pairing. Wild slithery eels lurch out from the depths of the water to snap up breakfast on the banks, and pelicans wait eagerly to fill their enormous bills – an electrifying experience not to be missed!
Extraordinary!
Meet a true blue television star as part of a fun and interactive musical show with the beloved Aussie book character. A real blast from the past for mums and dads, and a lively behind-the-scenes adventure for kids.
Hot Tip #4: While Blinky Bill wins over the hearts of little ones – bigger kids should go for the Echidna Encounter at the same time. Book in advance to avoid missing out!
A sssensational look at our reptile friends
Next up: Slither into the Big Fang Theory house where venomous reptiles show off their pearly whites. Snake a photo opportunity if you dare, and leave with the survival skills and first aid knowledge of an Aussie bushranger.
11:15am: Visit the Currumbin Wildlife Hospital
Recognise the life-saving efforts of our Oz wildlife heroes
Currumbin Wildlife Sanctuary wouldn't be possible without the extraordinary work of our veterinary team and volunteers at the wildlife hospital. These wonderful vets have dedicated their lives to rehabilitating and preserving wildlife – so why not take some time out of your busy schedule to gain some insight into daily realities? Watch as the incredible vets operate on some of the over 11,000 aniamls that come through the doors every year. Visits are free, but you can earn some extra karma points by making a donation.
11:50am: Catch a train at the nearby station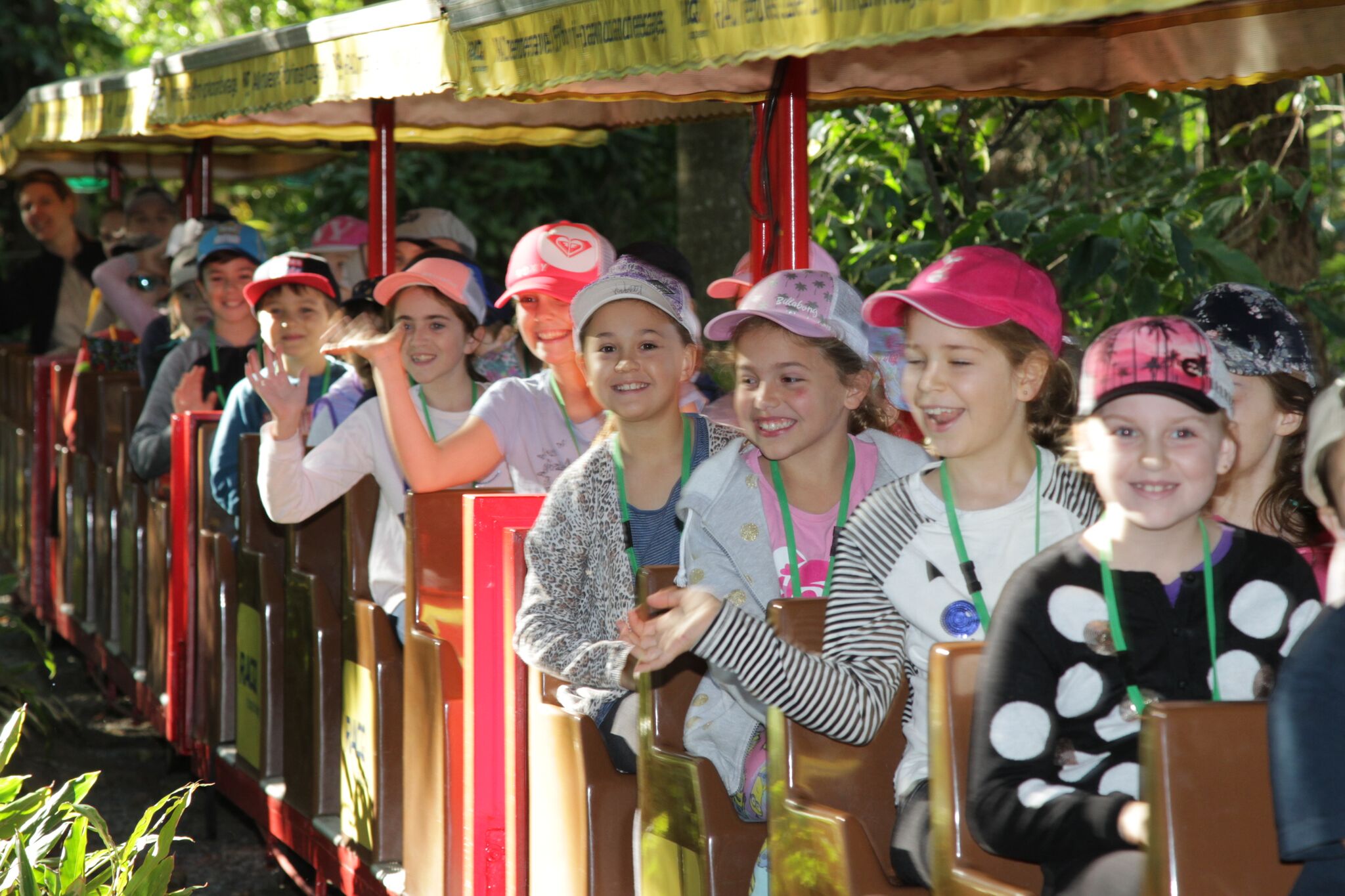 All aboard!

12:30pm: Lunch at Wild Burgers
Good news for rumbling tummies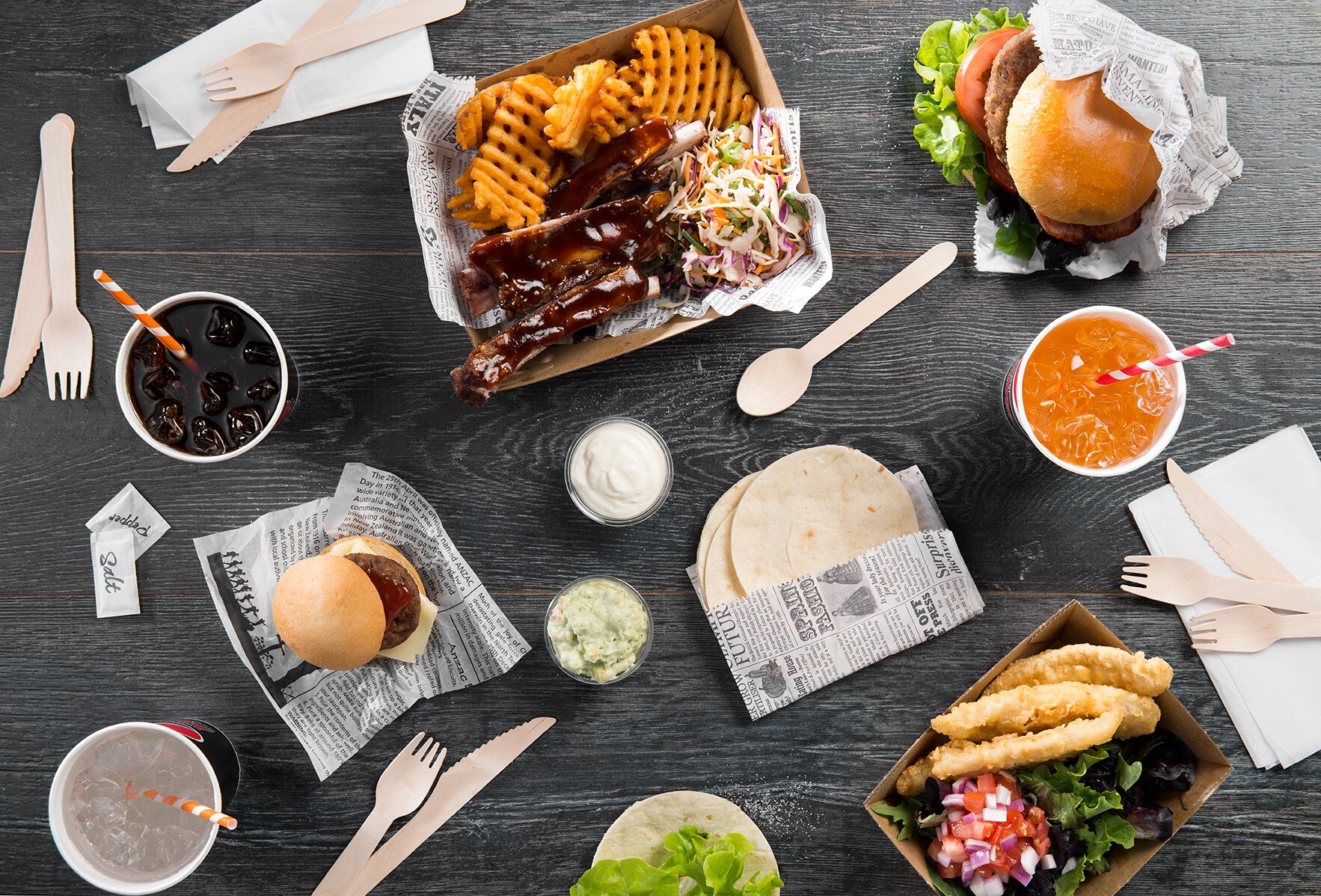 Wild Burgers has its own stop on the railway line and is the go-to spot for a hearty feed in the shade. So, take a break and treat yourself to a burger, fish and chips, fried chicken, sandwich or salad wrap. Vegetarians, fear not – an indulgent veggie burger is the perfect guilt-free option.
Dare to snap up a croc feeding opportunity?
After lunch, it's just a short walk over to the croc show – and saltwater-dweller Boss Hog sure knows how to entertain his hankering audience. It's a popular show, so snagging a prime view of this 4.8-meter-long whopper means getting there early!
Dinosaurs, lemurs – they're all in one place
Now's the time to finally pay a visit to old Boss Hog's exotic neighbours in the ancient land of Gondwana. The Sanctuary's newest 'Lost Valley' precinct will set you off on a journey to a prehistoric world, where you'll encounter species like red pandas, green iguanas and free-roaming ring-tailed lemurs – not to mention our photogenic Spinosaurus statue. You'll be pleased to know that Lost Valley is also included in your entry ticket.
Hot Tip #5: Check out our interactive board explaining the continental evolution for an edu-taining experience.
You'd be baaaaaaar-king mad to miss this one
This demonstrative sheep station offers visitors to Australia a taste of the outback without having to step too far from the beach. An expert gun shearer and his working dog demonstrate the art of giving a wooly merino sheep a haircut.
Hot Tip #6: Australiana is a popular show among our international visitors, but a sweet cuddle and photo with Meccano the possum is the perfect choice for those with a soft spot.
See our feathered friends take flight
Right next door to our shearing shed is a popular show starring the country's most incredible birds of prey – a park highlight for many of our visitors! You'll feel the wind beneath the wings of a majestic wedge-tailed eagle, Aussie pelicans and colourful parrots.

Hot Tip #7: Join a 3:00pm Segway Safari tour to soak in your surroundings in the arvo light. Book online before you arrive to secure a segway – but don't miss these high-flyers (you can also catch the show earlier on at 11:15am).
A celebration of Yugambeh culture and history!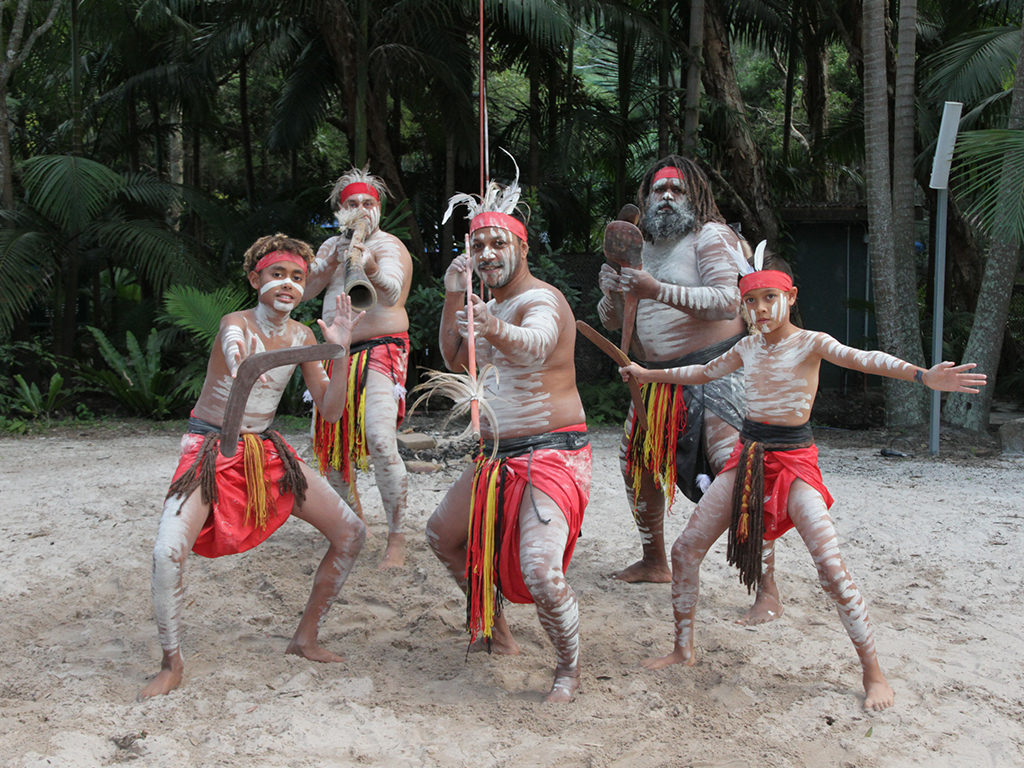 Feel the hypnotic rhythm of the didgeridoo as you take in the rich culture and history of this land's first peoples – a favourite among locals and tourists alike. What better way to come together and learn about the invisible laws of nature and its power? After all the song, dance and storytelling you can have your picture taken with the outstanding local performers in full traditional garb and paint.
4:00PM: LORIKEET FEEDING
Because the early bird gets the worm!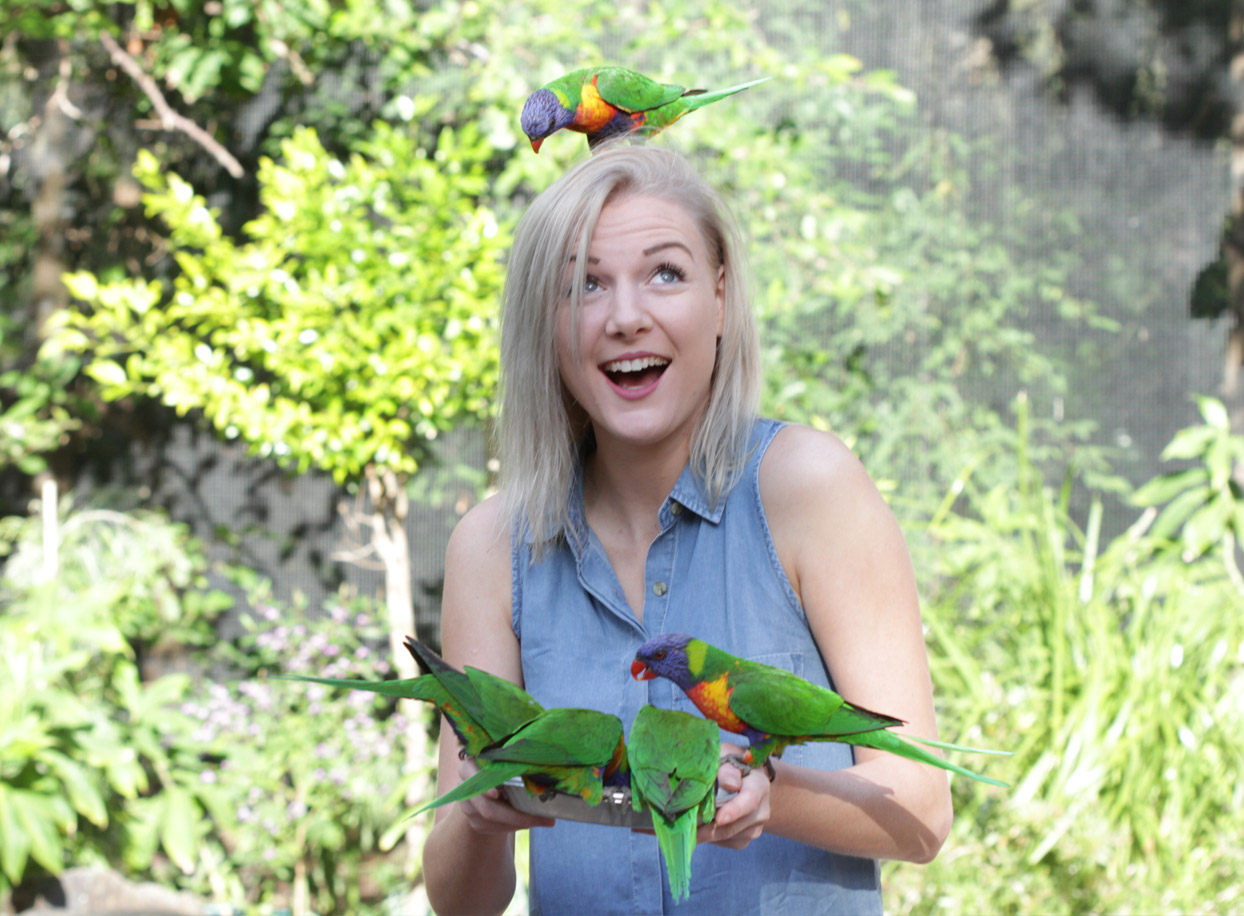 Generations of Aussies and international visitors have flocked to our most historical, and still one of our most popular attractions – our famed lorikeet feeding. If you missed the early session, you can steal the attention of our hungry rainbow friends at our 4:00pm feeding time.
Hot Tip #8: Top off your day with a cheeky cone from our famed Aussie Scoop Ice Cream Parlour (except on a Friday, when you can immerse yourself in Gold Coast's food truck culture at the Sanctuary Markets).
4:50PM: PASS THROUGH NATURE'S GIFT STORE ON YOUR WAY OUT
Don't forget to pick up your photos and souvenirs!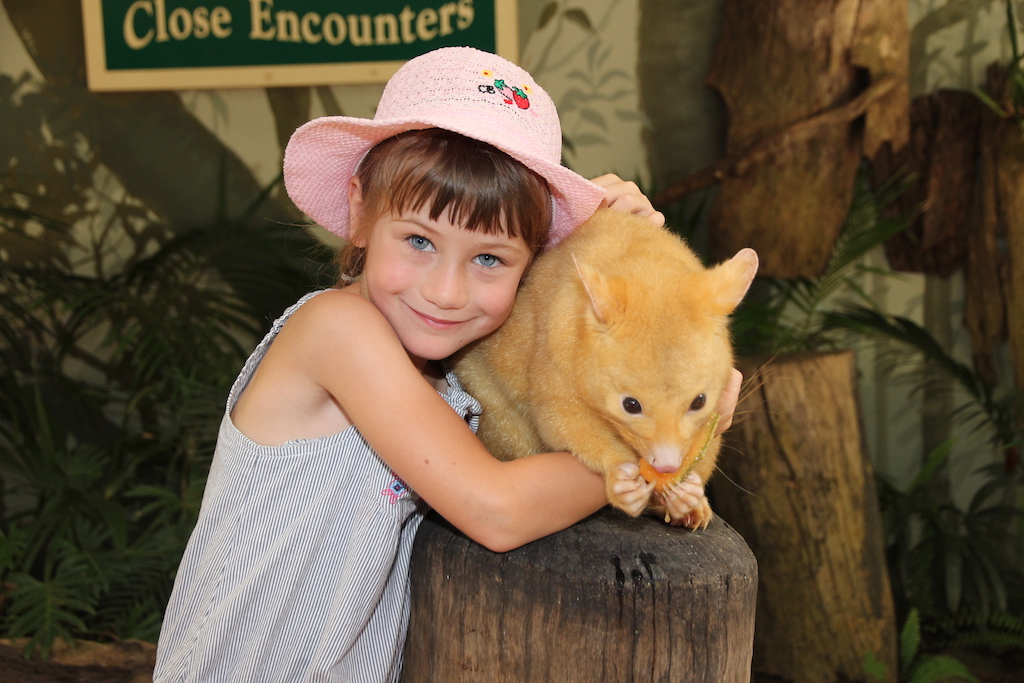 But if you didn't manage to do and see all the things you wanted, you've got plenty to look forward to on your next visit (and hopefully something to remember us by). The Sanctuary and all the animals hope to see you again soon!
*Attention locals: don't exhaust yourselves – pick up a National Trust membership on your next visit for 12 months of unlimited entry, free parking and other discounts.